We have just released one of the biggest updates on Area Raiders (small ''tower-offense'' game, where you start on the side of raiders trying to defeat the government bases and reveal the hidden secrets and aliens they are hiding in captivity!)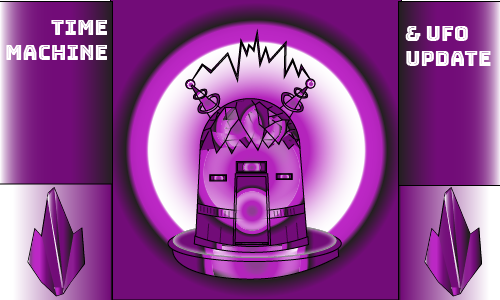 So, here's more about the update:

1.) Content additions/ changes:
- UFO spaceships added to the raiding part of the game (hmm… might they be carrying some boosters!?)
- Time-machine created and added into Upgrades -> Boosters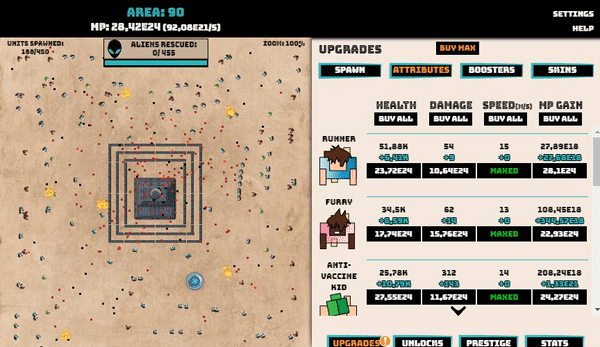 1-More about all this: Alien spaceships roaming around to help boost your efforts, providing a boost for active play, as well as rewarding you when coming back. Collecting the MP boosts, will give you up to about 50% extra gains compared to just idling.
UFOs currently appear every 90 seconds, providing you with extra MP, every 6 hours they reward you with 1 alien shard. If you are idle and come back, your first collected spaceship will contain up to 4 stacks of alien shards.
Alien ships carrying alien shards, will keep coming back until you collect them!
2- Use Alien tech to build a time machine, that can send your raiders in the future and expand faster!
Time-machine uses alien shards to be powered. You can preset custom options of how many hours you'd like to travel into the future in the settings for easy access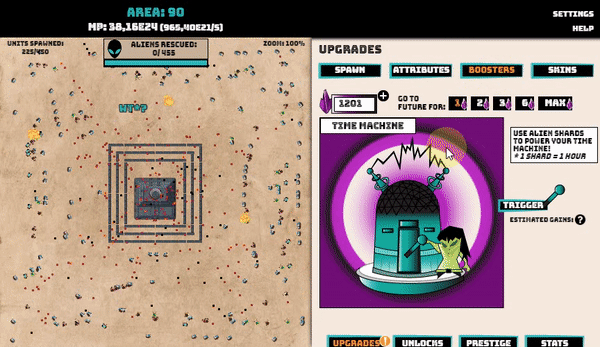 2.) UI changes:
completely new UI with side-menu integrated – so you can freely catch the ufo without a need to close the popup at first
Upgrade section now showing actual difference buying will do instead of absolute new number
zoom indicator added to the map
More:
Massive UI changes to make playing much more convenient (all popups appear on the side).
You can always switch to legacy/old UI if desired in settings – if the new UI doesn't convince you to use.
Changed upgrade amount changes to show actual difference buying will do, instead of absolute new number, to make it clearer what you are buying and what it will do
3.) Progression changes:
a) initial prices of all raiders reduced by half
b) initial cost of first skill reduced from 10 to 1 Prestige Point
c) price reduction in MP gain, prestige skills
More:
a- Initial prices of all raider MP gain upgrades reduced by half. This help you upgrade faster in early games, and the effect also slowly stacks with the late game
b- Initial cost of first skill reduced from 10 to 1 prestige point. This will give you faster and less punishing skill points in the early game, and an extra one late-game
c- Price reduction in MP gain, prestige skill, along with activity boosts and time machine will help speed up all portions of the game significantly, making for a much more exciting progression
4.) Other:
online saving added
a bunch of bugs and display issues fixed
some additional performance optimizations were done
-pretty much all sounds reduced in volume as they were quite annoying
*More:
Added online saving – game will automatically save online every 2 minutes. You can also manually save from settings. You will also find a "playfabid" there, which can be used for support queries and allow you to fetch a play on another computer. Logged in kongregate user's progress will automatically load online save
recovering a playfabid on another device/platform, currently would require a manual check, but we'll add an option to easily be able to do so yourself*
5.) Extra:
Your alien assistant Karen is feeling generous today – she'll be giving out more Alien shards the next few days when unlocking the time machine!
So, complete the steps and Build-up your Time-Machine, it worth it you'll see!
---
That's pretty much it :) Hope you guys will enjoy the Time-Machine update, please leave your feedback about it, as we want to further develop this game! Thanks a ton! ;)

You can PLAY the game here:
Area Raiders - Kongregate
or on our fresh/ new site (play without ads):
Area Raiders - Official


Feel free to follow our social media channels (we just started with, so your going to be one of the first :)
Facebook- Area Raiders
Twitter-AreaRaidersGame

Join us on Chat:
Discord Invitation