We have kept the good elements of games such as Super Smash Bros. and tailored with our own ideas on the smartphone. ARCANE SOULS™ is an adventure/action online multiplayer brawler game. Play with more than 18 different characters to over 12 stunning levels with amazing items to use, against your friends or as a single player in the missions mode with your favorite character. We give our heart and our soul for a breathtaking experience. Our focus lies on the gameplay, but combined with beautiful 2D graphics, ARCANE SOULS™ is completely up-to-date in terms of graphics as well. First, the game will be available for free on the iPhone, other plattforms follow when reaching the Stretch Goals. Let's get ready to rumble!
Check out our Indiegogo Campaign
Igg.me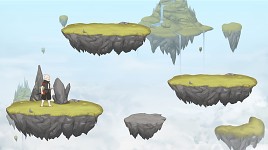 We are passionate gamers from Switzerland, who had always a dream. From an early age, our dream was to develop our own video game. Half a year ago, we decided to realize this dream. As a team we have been intensively working since one year on our topic. We were inspired by the games of Nintendo 64 and Playstation. As childrens of the 90's we have many systems and countless games, including The Legend of Zelda, Super Smash Bros., Mario Kart, Tekken and James Bond 007: Goldeneye played. Nevertheless, we always thought that some aspects of the games have to be improved.
Thank you very much for your support!
Arcane Souls