The Murder Mystery Machine (aka MMM) is an upcoming detective game for PC where you solve a series of procedurally-generated mysteries across a range of crime scenes. We announced and demo-ed the game at EGX 2018 (more information to follow!). You can check out the teaser trailer below:
MMM is inspired by classic detective authors - like Agatha Christie and Sir Arthur Conan Doyle - and modern detective dramas - such as True Detective and Mindhunter - and aims to place you in the mind palace of a detective. For MMM, we wanted to take inspiration from other genre games whilst adding our own spin via four key areas:
The Murder Mystery Machine
Our procedural crime scene generator which aims to deliver a range of distinct narratives and crime scenes
Isometric Art Style
Our chosen viewpoint is rotatable and aims to give a good overview whilst encouraging players to hunt for hidden details
Abstract Storytelling
Our unique evidence approach and deduction workspace aims to let players infer details and tell their own story
Bite-Sized Mysteries
Our narratives are backed by logical puzzles which aims to appeal to genre and puzzle fans alike
Unlike most detective games, MMM focuses on abstract storytelling to strip murder mysteries down to their basic elements (e.g. what are the vital clues) whilst encouraging players to think laterally as they attempt to solve each crime. We're incredibly keen to recreate a sense of anticipation/anxiety as the player closes in on their final accusation.
So far, we have the basic gameplay mechanics implemented: you can explore the crime scene, inspect bodies and interrogate suspects to gather evidence. Once you have collected enough evidence, you can make deductions and create and submit your accusation via the board: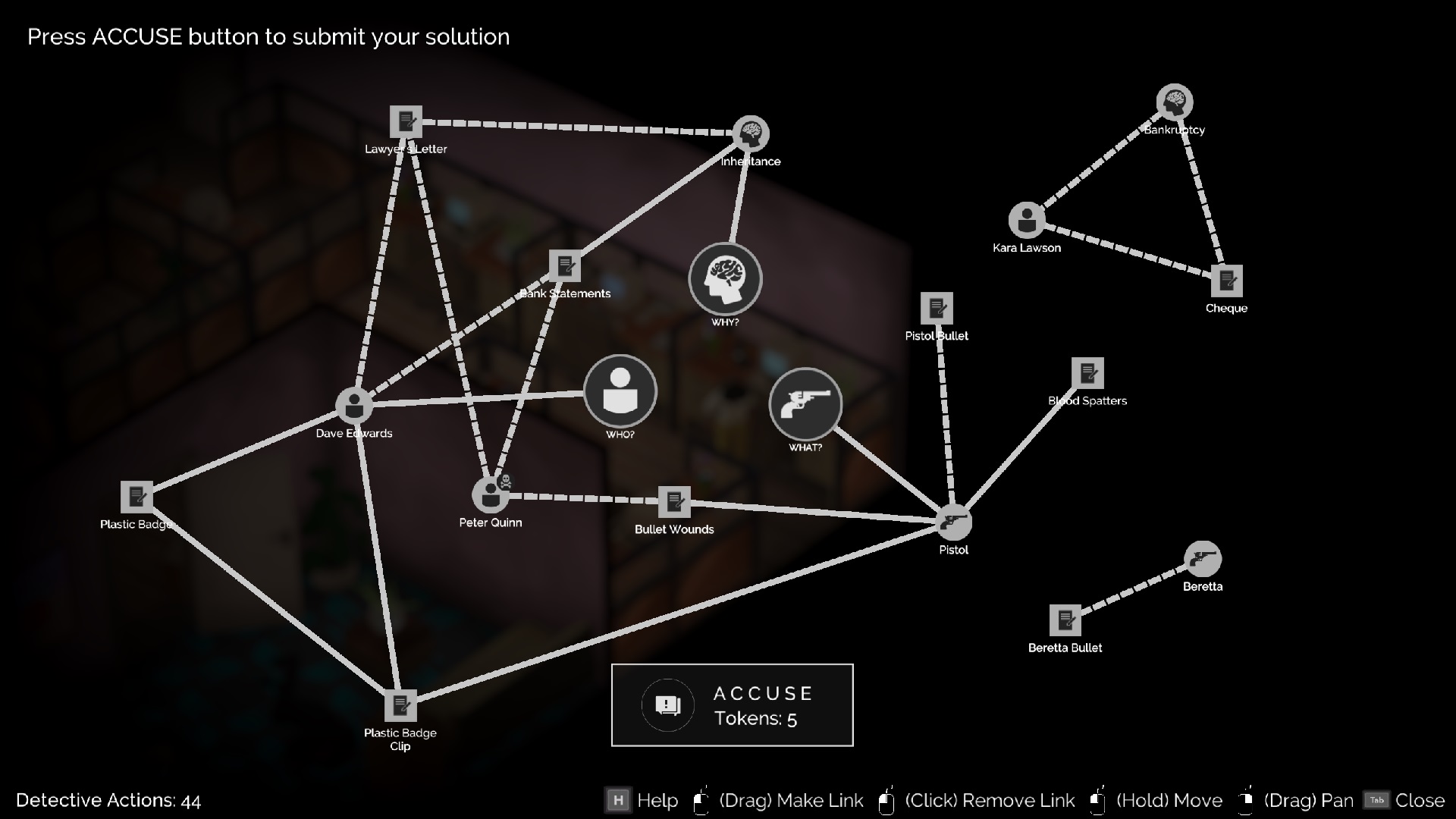 With regards to procedural generation, we have randomly populated environments - with items and NPCs being placed in various locations - and have developed a story generator which uses keywords and links to construct narratives around the core solution: Victim, Who, What and Why.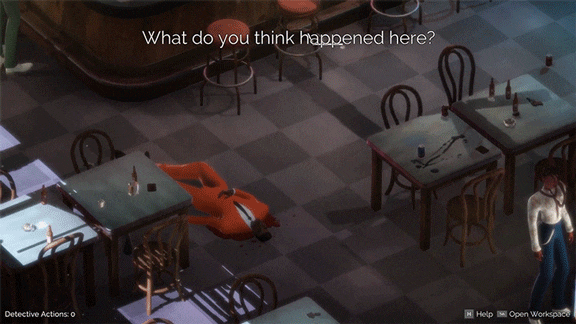 We have 1 playable detective and a handful of NPC models (which act as victims and suspects depending on the generation). The game can be controlled using keyboard and mouse or mouse-only in a point and click style. We're currently performing work on deepening of existing stories and increased environment randomisation.
Thank you for checking out our introduction to MMM. We are having a lot of fun building this project and can't wait to reveal more in the coming months. Stay tuned for future posts where we'll discuss the inception of the idea and evolution of our core gameplay - including procedural work - in more detail.
In the meantime, keep an eye on our official sites and channels for upcoming news:
Written by Clive Lawrence - @clive_bg - on behalf of MMM team
Senior Designer in Games at Blazing Griffin