Hi all, we're Isa and Tizian, the developers of Cendric and we wanted to give you a short overview of the game.

Cendric is developed in C++ using the multimedia library SFML. We are developing the game in our free time since Spring 2015. Cendric is open source and you can read more about its development process on the SFML forum.
Story
You play as Cendric, a young mage who has lost his memory and wakes up alone in a forest of a strange land. Soon, he realizes that an evil curse was cast upon him and that he has not only friends in this world...
Gameplay
The gameplay of Cendric consists of two main parts. As the title already suggests, the game is a RPG as well as a platformer. The RPG part happens on the map, where Cendric can walk around, talk with NPCs, trade and accept quests. At certain places, he is able to enter levels, which are played in a sidescroller perspective. In the platformer part, he is able to fight against different enemies and bosses, collect items, solve quests and puzzles.
Spells
Cendric is able to learn several different spells on his adventurous journey. Some spells are needed to solve puzzles and to change his environment. For example, he can freeze water with an iceball, move a lever with telekinesis or shift certain blocks with a wind gust.
Spells are modifiable with special gems found in the game. A duration gem may increase the lifespan of a summoned creature, for example, and with a count gem, Cendric can shoot up to four fireballs at once.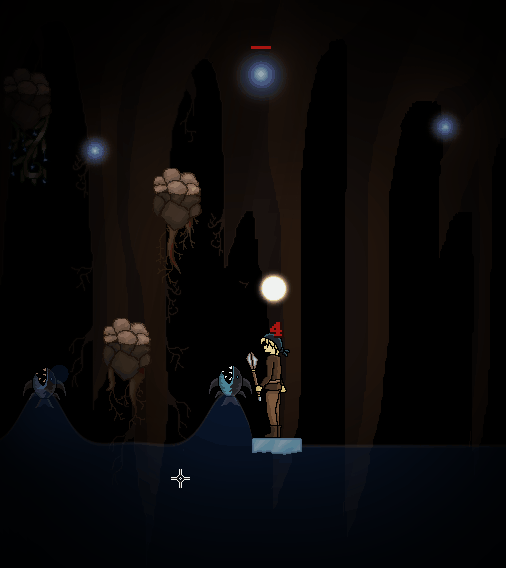 Guilds
The player will have to choose one of three guilds where he can join. The choice of a guild influences some parts of the story, the spells which can be learned and which quests can be solved.

Equipment
Cendric can wear different equipment throughout the game, which he can buy from merchants or find in levels. The equipment will influence the stats of the player, such as resistances, damage, health and cooldown.
Influences
The game is influenced by the Gothic series by Piranha Bytes and Dark Souls.
Pre-alpha Releases
You can find the latest pre-alpha releases on Github.