Micah's got a new video showing off the 3D model for the Starman, check it out below!
---
NOTES
Below are a few notes we'd like to address on the character after receiving some inquiry's:
Will there be 'normal' humans?
Yes, the bulky super armor here is meant to be attained over time and for co-operative PvE type gameplay. When playing in a crew-on-crew battle we'd want to have everyone battle in their red-shirts, of course. On the other hand we'd like to make a distinction between "Starmen" and human where possible.
Is the Starman a robot?
We wanted him to be "concealed" and mysterious during normal gameplay, yet not a robot. Apparently we need to make this more apparent.
Is this the only character I'll be able to play as?
No, we are working on other characters. In addition, the game (combined with lower poly requirements) should allow for easy modding in of new aliens & avatars. We'll be aiming for each of the primary playable ones we produce to offer a unique experience in the world though.
Are the eyes supposed to be that hard to see?
Nope, the You Tube video seems to have bleached out the color. joxp has also suggested we have the color change based on mood. Might be interestin'. =)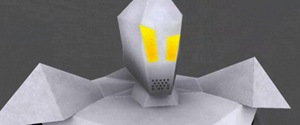 ---
Tell us what you think!
Post your thoughts in the official thread and let us know what you think!