While it may seem like things have been quiet for Alien Arena the past six months or so, the reality is that we've been working on some really cool stuff. First, and foremost, we are about to release an offshoot game of Alien Arena, known as Alien Arena: Tactical. This game creates sort of a hybrid of a tactical military shooter, and the classic faster-paced FPS games. In a couple of weeks we will release what we consider to be an Alpha of this new game. It will include one level, and most of the features that we originally planned and intend to include. This game is class based, which each class having different capabilities, and requiring them to work together to have the most success. Some classes can plant bombs, some can detonate them, some spawn with a super-weapon, etc. Different health and armor statistics for each class are also included. The game pits humans against aliens, in an all-out war to destroy the others base. Each base has three key components, and each of these components have sub-components that either aid in defending the base, or aid another component in the event of failure/destruction. Movement is slower than classic deathmatch Alien Arena, but still uses the same physics and principals. Players can only pick up one weapon at a time, other than their starting weapon and bomb kit. Teamwork is completely essential in this game.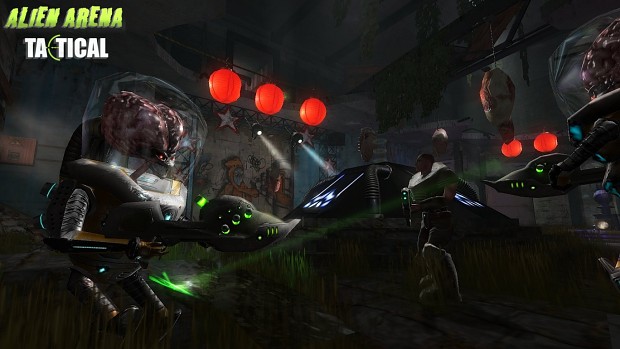 This Alpha will serve as a proving ground to help us build up to the beta, and then the full release of the game, which will include six or seven levels. We will provide more info, and a manual when the release is closer.
The Tactical game mode will also be included in a brand new full release of Alien Arena, which will also come out at around the same time. The big news for Alien Arena in general is aside from Tactical, we have completely revamped the menu system to a much more modern, slick GUI. This was a long time coming, and while we've been planning it for years, we finally had the time to get 'er done. Thanks to everyone for their patience with that, and special thanks to Max Eliaser for putting in so much time and effort in what for many would seem to be a tedious and less glamorous task.
In other Alien Arena news, Summer Dreamhack 2013 was a major success, and we have picked up a few more sponsors, which means yes, more tourneys and prizes and other goodness down the road. There will also be potentially some big news regarding Alien Arena and ESports, so stay tuned for that.