We have been making a lot of progress lately.
Coming up with some great ideas as well.
Here is a small update on the progress of Zombie Sur5al!
The new character Design Is finally Added!!
There are still a few bugs that need fixing.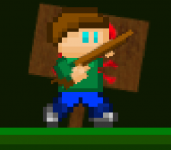 There is still a LOT to do.
Do remember guys and girls. we are working on this in our spare time.
Anyway, enough from me, thanks for checking out the progress!
-TEPL