Welcome to the 0.8.3 update!
As explained in my previous devlog, this update (and the next) is focusing on the expeditions. A very short summary would be that we can now manage multiple expeditions at once. Of course, as with all major updates, it runs a lot deeper than that. As usual, this article will focus on the main changes while you can find a complete changelog at the very end. Without further ado let's get to it.
Enjoy!
The city map and expeditions are no longer completely abstracted. Both became tangible things connected to the game world. To explain that in simpler terms, you are now able to given direct orders to your expeditions, tell them to move to wherever you want them to, and change you mind mid travel. You can move them on the world map like you would move a survivor in combat mode. You can loot or attack multiple locations with the same expedition and decide when you want them to come back home.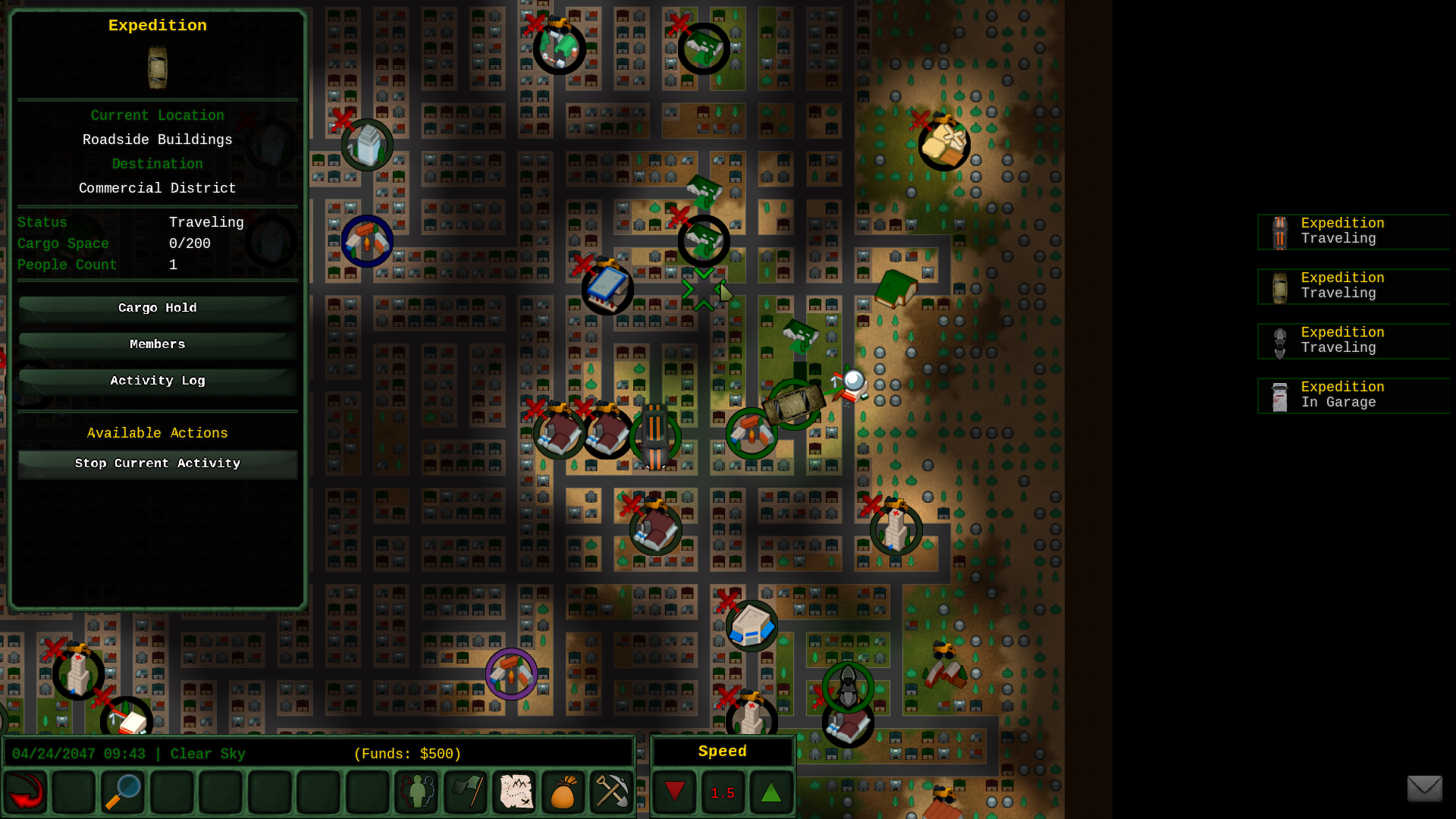 More importantly, you're no longer permanently limited to run a single expedition at a time. Unlocking specific technologies will increase the maximum amount of expeditions you can run simultaneously to a maximum of 4 in a vanilla game. I made a lot of adjustments to the UI and help screens to make the transition as smooth as possible. For instance, you can track the status of each expedition in the optional panel on the right side of the screen (can be toggled on/off in the filters), clicking one panel will center the screen on the expedition or its garage if it's not off map.
This new building is pretty much the heart of this update. Your first garage is unlocked with the Exploration technology and will allow you to setup and manage one expedition. Other technologies will permit you to build more garages for more simultaneous expeditions (radio, logistics and garage maintenance).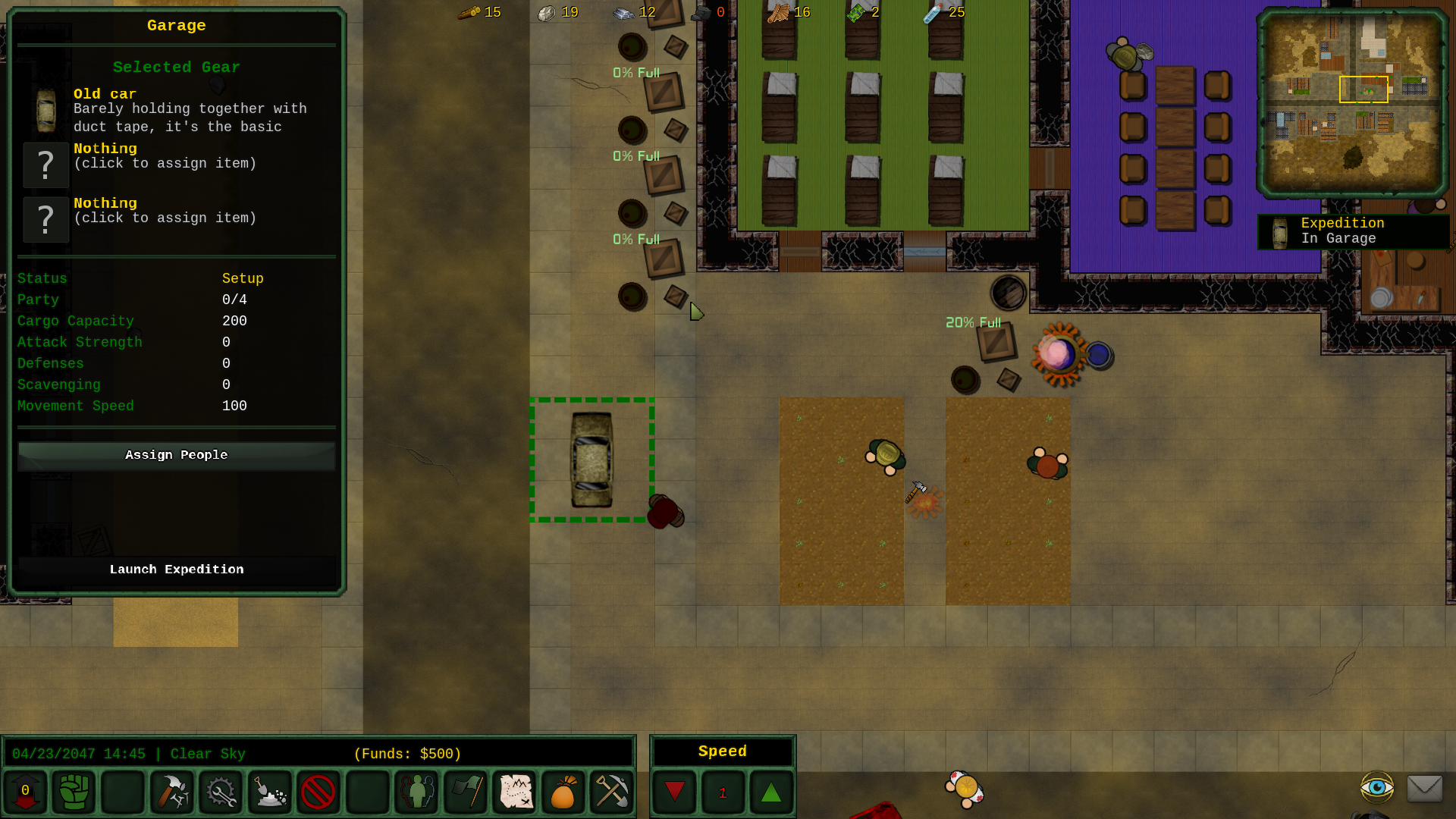 Garages have to be built on the surface, in a spot from which a vehicle can path to the border of the game map. This is where you can assign a vehicle, people and items to a specific expedition. New vehicles can be found by exploring specific location on the map and from research. Items, right now, can only be found while exploring the city. Vehicles and items will determine how many people you can bring with you, your movement speed and can also influence how good will be your group at given tasks.
Once satisfied with your choices, you can launch the expedition. The selected survivors will hop in the car, leaving any useless cargo behind (and releasing their claim on any personal bedroom or pet). The car will exit the game map and will then be available on the world map. From there, you'll be able to order it around, tell the expedition to path to any point of interest, attack hostile locations, loot or take control of others.
It's now possible to order your expeditions to loot a location until it's empty or until their cargo hold is full. If you change your mind, you can order your expedition to stop the looting session at any time. To recover the cargo found during your looting session(s), you'll have to manually bring the expedition back home.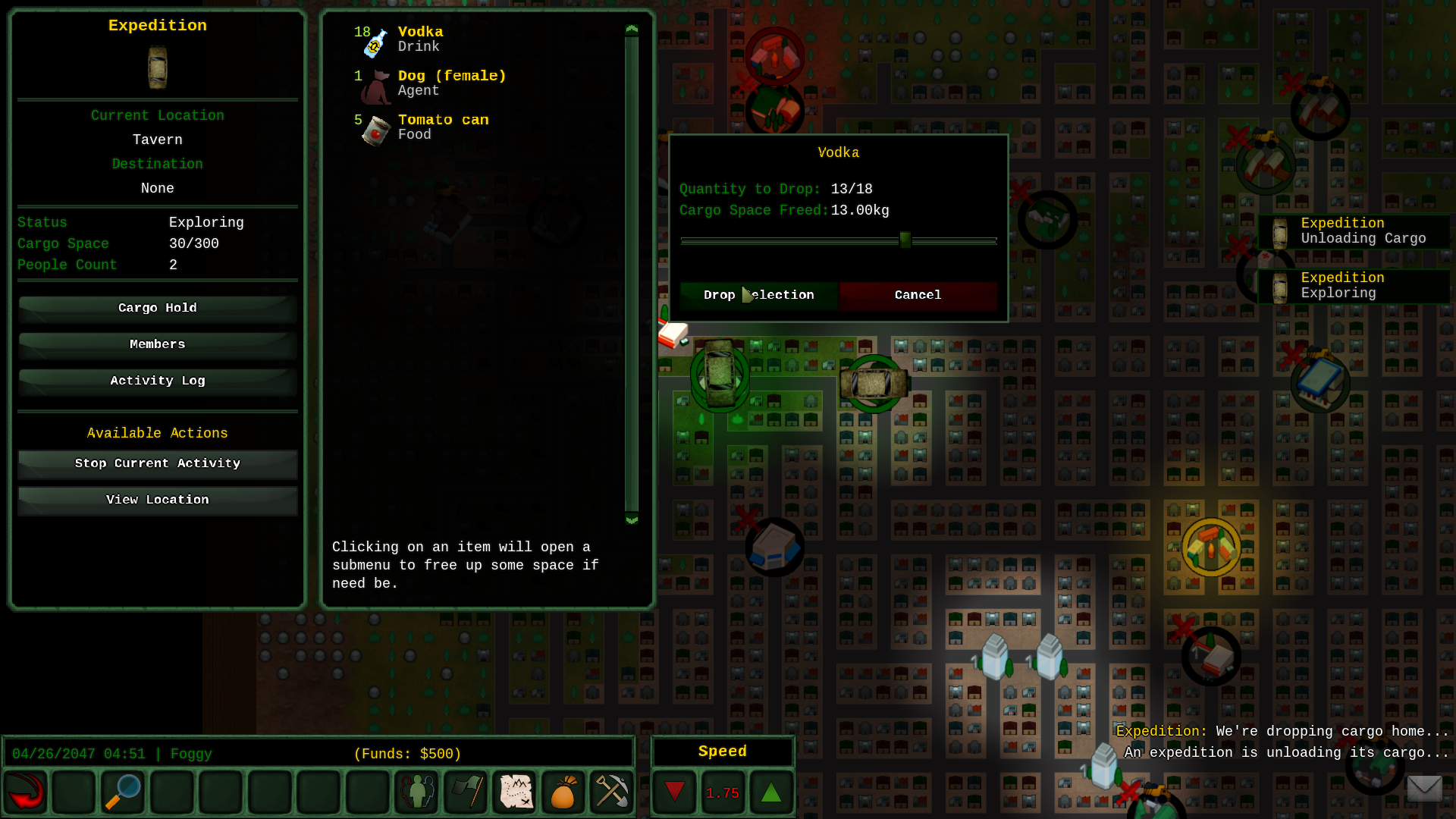 You can also decide to get rid of loot you don't want to make room for more useful stuff. It means that don't need to go back home each time you collected too many stones. To do so, simply open the expedition's cargo screen, click on the item you don't want and a menu will appear allowing you to select how many units you want to get rid of. The menu is still a bit ugly, but I'll get that fixed soon.
Of course I had to tweak some features to work with this new system. Here are the most important points you should be made aware of:
The whole expedition tech tree has been changed. Techs to increase movement speed, range or capacity have been scrapped. Instead you'll get techs to repair better vehicles than your default car. The best cars can only be found by exploring specific locations.
Expeditions can be renamed like you would for a survivor: by clicking on their name in their associated panel.
People you rescue while looting a location will automatically be sent to you base. You no longer need to wait for your expedition to come back home, instead a "recruitment" event will popup roughly 12 hours after your expedition is done with the looting.
There is no longer a limit to how far an expedition can travel to. Once you can send your first expedition, the whole map is available to you. It might just take a while for your guys to travel, especially with the default car. In the same spirit, the amount of people you can bring is only determined by the vehicle you'll be using. Same goes for the cargo space.
Taking over a production center will no longer "consume" the expedition. Instead, you'll be asked to select people who are still in your base. Once the repairs are over, the expedition will be available again and ready to go do something else.
It is now possible to conduct diplomacy with other factions early (before Radio) by sending an expedition to their headquarter and opening diplomatic channels.
I'm particularly proud of this one and you'll see a lot more of it in the future. While traveling, expeditions will occasionally encounter situations requiring your input. They might have found something worth investigating, been attacked by bandits, and so on.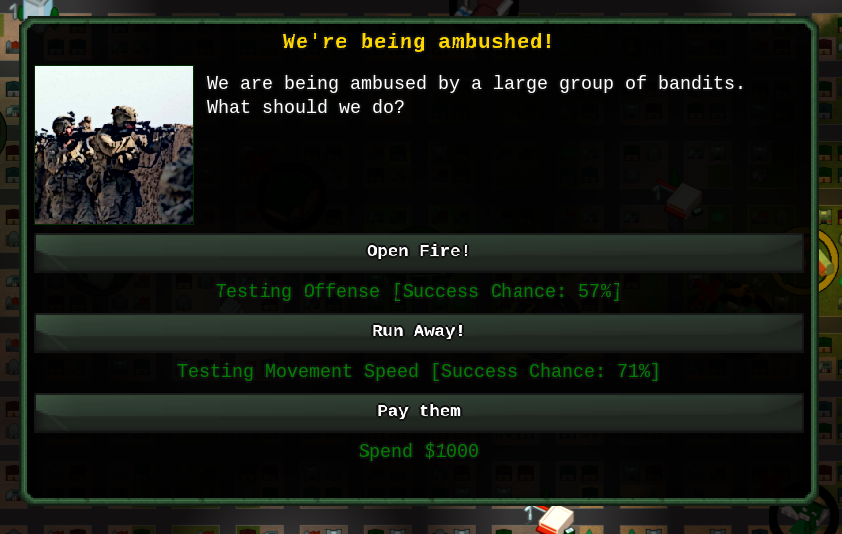 You'll be offered different options with different outcomes. Each option will generally be testing a particular statistic tied to the expedition. A positive outcome might give you loot or a bonus while a failure might damage or even kill some of your people. Once the situation has been resolved in a way or another, the group will continue on its merry way.
This system replaces completely the old non-interactive travel events.
Survivors had a bad habit of trying to retrieve absolutely everything (dead bodies included) that has been dropped on the ground with no regard for their own safety. In some situations, it could easily lead to their death, causing even more people to get killed trying to retrieve all the shiny loot. Basically this: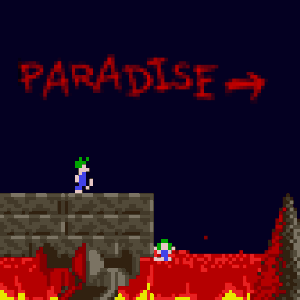 Well, no more.

First, as long as you're in combat mode, civilians will automatically ignore any dead body or dropped loot. The game will assume that if you're in combat, it's probably not a good moment for your peons to retrieve loot.

Secondly, 2 checkboxes have been added in the faction menu, as shown in this screenshot: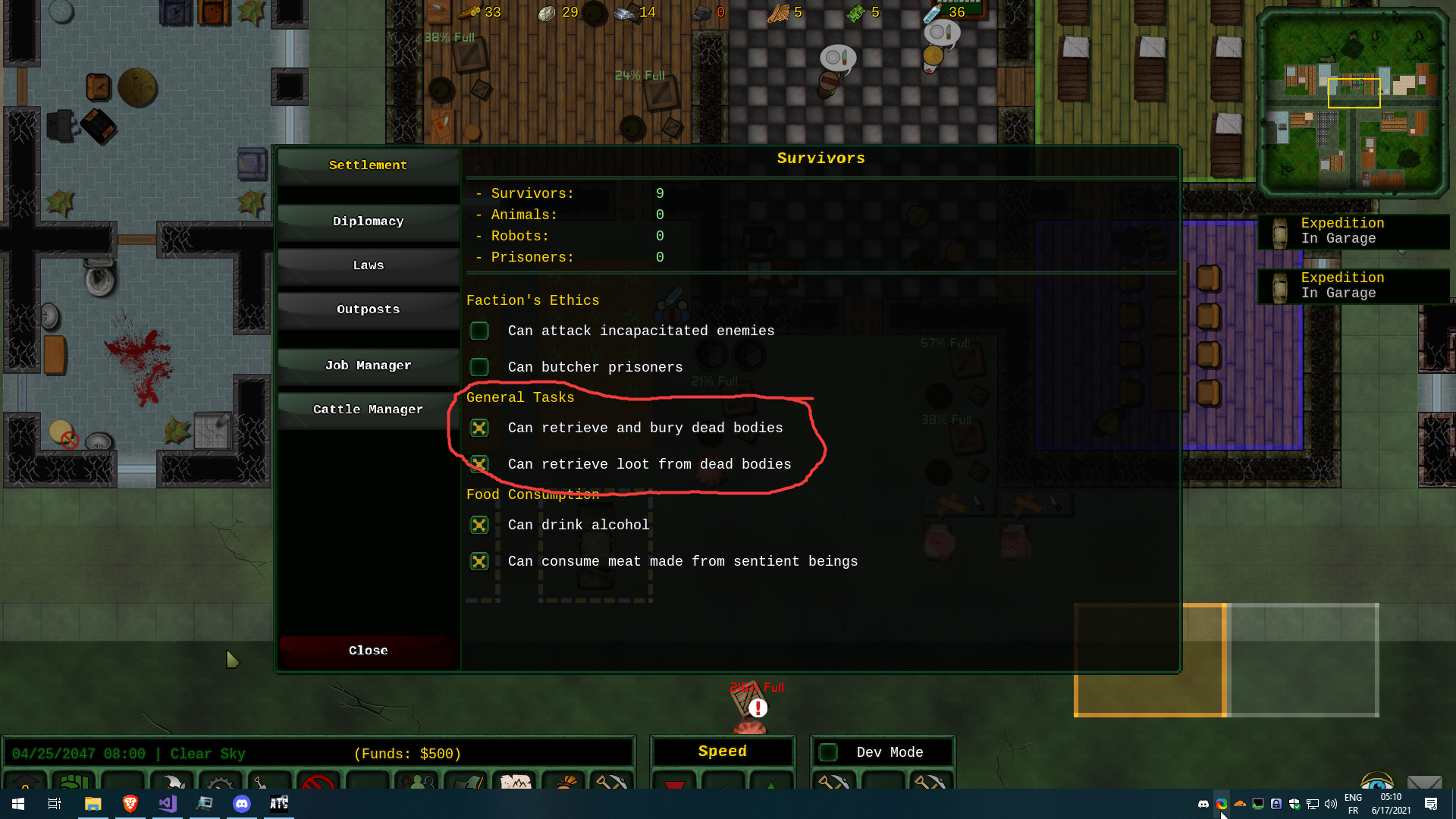 They are kind of self-explanatory. If unticked, survivors will no longer try to retrieve dead bodies or loot coming from dead things, globally. When the situation is resolved, you can tick those checkboxes and they'll start doing it again. Tiles with "forbidden loot" have a distinctive icon.

Of course, items dropped by factories, raze orders and so on will still be collected.

Also, knowing that there are some cases when you'd want to prevent dead people's loot from being retrieved globally, but still want a specific tile to be collected. Well, it's also possible! Just "raze" the tile you want your settlers to collect nonetheless, the "no collect" icon will disappear and your guys will consider the location safe.

I think it's a slightly more elegant system than adding zones everywhere. At least I want to give this system a trial run. If it's not satisfactory, it won't be a problem to switch to something more involved.
I also fixed several minor issues with the survivors' AI. Most notably, there was a problem that if something is being constructed next to a depot, it could temporarily prevent people from accessing it, causing any survivor trying to do so to freeze in place. Survivors are also much better at recognizing that an order has been canceled or is not longer possible to complete: instead of pathing all the way toward the no-longer-relevant-destination they will switch to something more productive.
Savegame & Mod Compatibility
This version is not compatible with previous save-games. If you want to finish your game, you can roll back to the previous version as usual (right click on ATC in steam, properties / beta tab). Most existing mods should be compatible, including those adding or altering city locations. Mods altering expeditions or adding travel events are not compatible but shouldn't cause any major issue.
So this is the first part of the expedition overhaul. It's setting up solid foundations for the more content oriented "Part 2". Switching to a proper "scene" to handle the city as a whole instead of relying on smokes & mirrors took a while, and made me rewrite things I never thought I would need to, but I'm pretty happy with the end result. A lot and I really mean A LOT of new content can now be added to this part of the game.
Speaking of new content, Part 2 will add the ability to manually handle most combat related stuff during expeditions. It'll also add new things to interact with on the map like travelers, merchants, other factions' expeditions and roaming beasts. It will also add new terrains (rivers, lakes, chokepoints) alongside new items and events to form a more interesting and cohesive experience.
In any case I hope you'll enjoy this update, because it was a real pain to write :D
Cheers!