When designing the dungeons for AE Heart, we wanted to make sure there was a lot of variety, and that each dungeon felt different from each other dungeon, in order to keep gameplay fresh through many replays. To show this off, we wanted to do previews of a few of the dungeons from the game. First on our list is the Forest dungeon. Here is a run of a single Forest stage, equipped with a spear:
Some of the enemies and traps you can find in the Forest dungeon:
---

Needlebug
Needlebugs fly around erratically until they spot you. Once you get near, they will dive down to sting you. They can only be hit when near the ground after a sting, so proper timing is essential.
---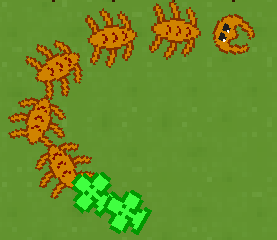 Crawler
Crawlers are one of the few non-aggressive creatures, though they are still dangerous to touch. More frustrating, however, is their tendency to add valuable items to themselves as new segments. If you plan to gather every item possible, you may have to hunt one of these down.
---

Swamp Slime
Like regular slimes, the swamp slime will alternate between charging at you and resting. Unlike regular slimes, swamp slimes have a chance to change whatever tile they cross over into a poisonous swamp tile.
---

Hive
The hive will not attack or move itself, but it will release bees that will seek you out. A bee cannot survive stinging you, but the flip side of that is that you can only survive so many bee stings. Best to take these out before they whittle your health down too much.
---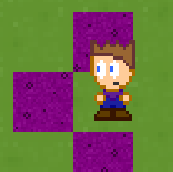 Swamp
The swamp tiles will slow you down while you are in them, just like water tiles, but they will also sap your health until you leave the tile. Jump over these tiles or go around them entirely to avoid the damage they cause.
---
That's it for the Forest preview! Stay tuned for our future previews of the other dungeons from AE Heart!