A couple of days late, but it's finally here! Now available on the downloads page are 64 bit builds of the Winter's Wake demo for Linux, Mac and Windows.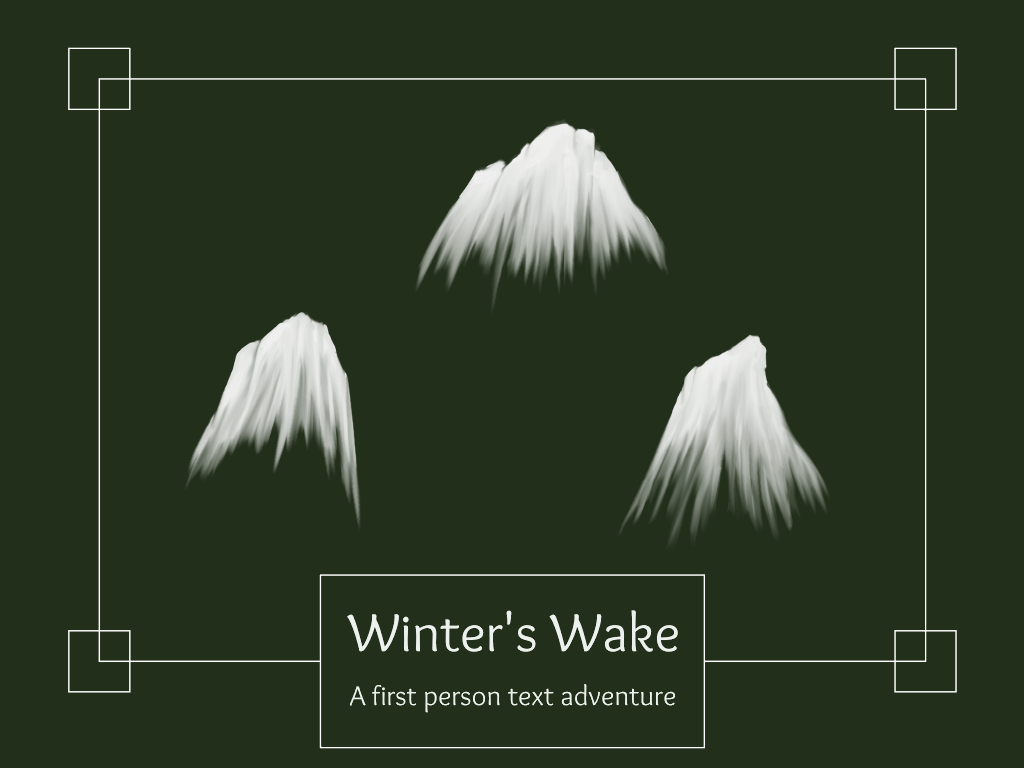 The audio and scene colouring in this build are indicative and not representative of the completed game.
The game outputs an analytical log, which tracks the way that players interact with the game. I would be super appreciative of copies from any play sessions, as these will help me understand how players approach the game. Details of where to find these log files are covered later in this document.
IMPORTANT: Adjust your volume during the intro sequence so that the music is comfortable, and don't turn it up during quiet scenes. The volume of sounds usually indicates distance, and there are a couple of moments where increased volume is used to support scenes' atmosphere, and these are balanced to be somewhere close to louder sections of the intro music (if you bump the volume up so that the distant forest birds are clear when you're at the avalanche, you'll blow your head off when you get to the waterfall).
How To Play
There are seven locations in this build: Avalanche, Crossroads, Lake, Waterfall, Village Gates, Village Street and Healer.
Use the mouse or the arrow keys to move around (the compass at the top gives you horizontal direction and the arrow on the right gives you vertical direction). Screen colour and positional audio should help give you a sense of orientation.
Use the left mouse button or the enter key on a road or path to move to another scene.
Mouse X/Y or Arrow Keys: Look left and right or up and down
Left Mouse Button or Enter: Interact (contextual icons will indicate what action will be performed) or skip scrolling sequence
Q or Esc: Pauses the game and displays the main menu
Ctrl+R: Reloads current scene (reloads scene definitions, sounds and music, but not models)
G: Toggles mouse grab
F: Toggles fullscreen
P: Saves a screenshot to screenshot.png in the game folder (Mac users will need to right click on the game's .app file, and select Show Package Contents, then navigate to Contents/MacOS/)
Log & Save File Paths
The game creates the following log and save files.
winter.log - an analytics log that can be emailed to cheese@twolofbees.com to help the developer understand player behaviours.
winter.save - a save file containing manually saved game progress.
These files can be found in the following folders:
Linux: ~/.local/share/icicle/winters_wake/
Mac: ~/Library/Application Support/icicle/winters_wake/
Windows: %APPDATA%\icicle\winters_wake\
Known Issues
Only 64 bit builds are available at this time
Windows version has intermittent crashes
Game does not remember fullscreen state after closing
Game does not automatically let go of mouse input when returning to the menu (use G to toggle mousegrab as a workaround)
In-progress text fade ins do not progress after returning from the menu (looking at another scene object and then returning will make it come right)
Viewing any combination of the in-game readme and/or credits twice will cause unsaved game progress to be lost
Transition from the Healer scene to the scrolling outro is a bit long
Players who click before descriptions fade in can perform actions without knowing what they're doing
The game generates unnecessary audio related error output during scene transitions
Scene titles (above the compass) aren't pretty (underscores instead of spaces, no nice capitalisation, etc.)
Current builds do not have VR support
If you experience problems beyond this, please let me know!

Enjoy!