This is our first post to IndieDB, so let me tell you about the game first.
Unknown Horizons is a 2D realtime strategy simulation with an emphasis on economy and city building in a colonization themed world. One the project was known as OpenAnno but we moved on from trying to clone to being original long ago.
Being an open source project, we are always looking for people who want to contribute or join our cause to create a wonderful, beautiful and fun game. Hope you like the game!
The game features ship travel/transportation, colonization of islands, resource harvesting, processing, diplomacy and battle.
The features we added since our last release (which you can get HERE) are:
Complete settlement AI (details here)
Combat and diplomacy system
Increase in performance (partially thanks to FIFE)
Support for internationalized voices (right now available: de, en, fr)
Nine new buildings, one new ship (here are some)
New statistic widgets
Usability and interface improvements (for example the in-game menu)
New maps and a parameters-based map generator
The original announcement is here and some more details about the new features here.
I already wrote that we are an open source project, so let me list a few ways how the community can help us:
Translators, sound artists, programmers, game designers, writers and voice artists can also help. The get involved page will let you know how to get started!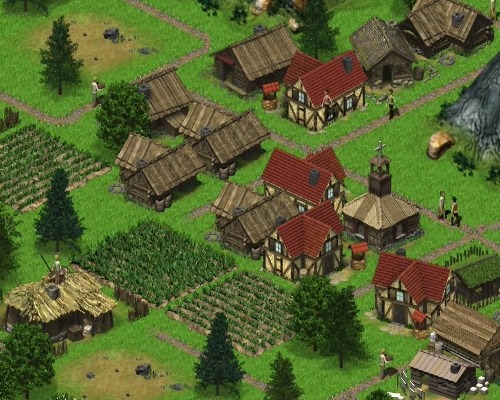 Screenshot: Pioneer and settler buildings