We're aiming for a new release (3.19) in august.
I was hoping to get quests completed for the next release, but now that we've got variety of other substantial new features up and running I find postponing the quests better than postponing a new release. So there won't be quests just yet, but we do have an exciting and important release in our hands. Such a crucial fixes, balances and fulfilled suggestions have been accomplished that it's more than justified to put them out. In addition to lots of (currently invisible) work with quest system the past 5 months have also been about creating solid groundwork for many important blocks of gameplay. For example, now only partially showcased NPC "prey-predator" relationships and item breakage systems have lots of underlying possibilities to be utilized more extensively in future releases.
Link to list of new stuff in upcoming version 3.19 can be found at the bottom of this post, and here's couple of screenshots about combat related improvements:
---
* Significant eye injuries will cut away according sector from your field of vision. Diminished eyesight means more hidden angles (and possibly more free stab handouts) for your enemies. Here's field of vision of a character who has lost his left eye:

---
* Shields can be used to protect from missile attacks. When a shield is held in protective position missile attacks to covered body parts are automatically blocked as they hit the shield instead of you. NPCs can also use shields in similar fashion. Shields can be held in many ways to cover different body parts and to protect from varying lines of attack. Here's how the shield mode selection looks like: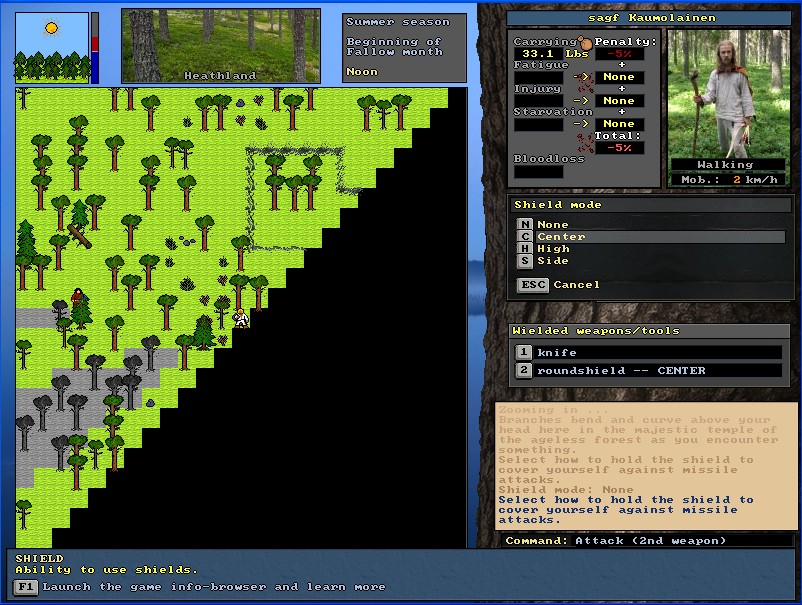 * Relative direction of missile attack has been taken into consideration. For the sake of realism and tactics it matters if you are shot from front, right front, left back etc. Now the line of missile attack and character's facing direction properly affect to whether the shield protects you or not. Here the character is holding a roundshield on his right side (primary hand). Shield position is illustrated with a bit of black - and that yellow line shows trajectory of a recently shot foreigner arrow, which didn't hit the shield. If this arrow would have been shot to character's head, calves or feet it wouldn't have been blocked by the shield. Red lines from other NPCs illustrate their lines of missile attacks in which case this shield mode wouldn't help at all.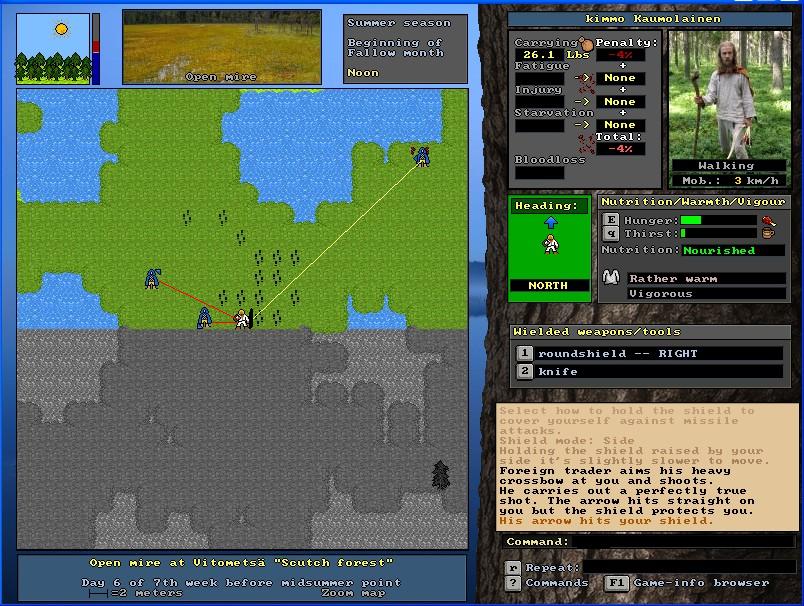 ---
So...
* Some day in august we'll start with beta releases of version 3.19.
* Beta releases will be available for those who have got UrW lifetime membership.
* After we can call it stable, version 3.19 will be publicly released.
Even though things are being wrapped up for a release now some new features are still bound to be tweaked and added. I'm also hoping to find time to add a proper showcase bundle of new nature/bird sounds too. In the midst of release rumble - and after - finishing the quest system remains a top priority.
...and here's the thread at UrW forums containing list of new features & fixes in upcoming version 3.19 (so far).