Micro Factory Games ( @m_hendrix06) has released a new public version of the physics based mine cart racing game Swipecart, out May 8 2014. As it gets closer to the release date it becomes crucial collect more data and gather feedback from people playing the game. The beta version contains the entire first world, along with the track editor and access to the track share. The Windows version contains controller support outside of menus, which is encouraged if you hate using simulated touch screen mouse controls.
Here is a small list of updates for the beta release:
Huge reduction in file size.

The original build wasn't properly compressing music, and ~50mb has now shrunk to ~16mb.

Ghost replays.

You now get to race against yourself and your best times when retrying tracks for medals.

Improved introduction and tutorial.

Redid the tutorial and gesture prompts to help new players understand the mechanics easier.
Swipecart has a slated release date of May 8 2014 for Windows PC, iOS and Android
Check out the official site at Swipecart.ca or read on to see a list of current features.
Download the Windows Beta here (recommended):
Swipecart Windows Beta v0.2
Play the HTML5 versions here:
Swipecart Web Beta v0.2

Create a driver profile and take the first step towards competing in the prestigious Global Swipecart Cup. As you compete across a variety of tracks each with their own obstacles and challenges, you will gain fans that boost your ranking and open up new possibilities. Compete for the best times in order to gain gold medals on each track. Compare your times to those worldwide with the global leaderboards, as well as individually with your friends. Or beat your best times by racing against your own ghosts. Use the Swipecart social network to add people to your friends list and directly compare stats and times with them. You can also use the in game mail system to send messages and trade gear. User created levels can also be easily shared with friends through the mail system.

Fans provide you with money, which you use to purchase gear to customize your driver. You also collect gem fragments as you navigate the rails, which combine into gems which can be sold or exchanged for services. Collecting all gem fragments on a track also rewards you with an extra gem, giving drivers a reason to strive for a perfect run. Visit SwipeMart to browse the latest selection of helmets, carts, and wheels. With dozens of styles to choose from in a wide variety of colors and themes, you're free to ride in style. You can then swap out your gear in Larry's garage, where all your sets are stored. With so many items to choose from, drivers are rewarded for finishing complete collections. Additional cosmetic items will be available to those who can finish up these sets. In addition, you don't have to dress just to impress yourself. Access your Racing License online, allowing you to share your stats and your style with the world.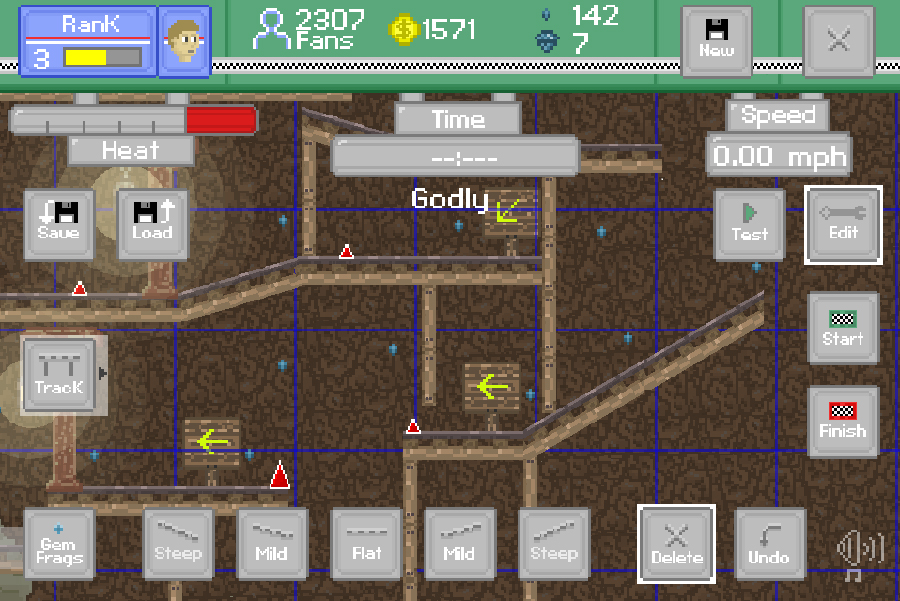 Create your own custom tracks using the in game editor. Place track, obstacles, decorations and gem fragments with ease by snapping pieces together. Save and load your creations, and test them on the fly. Change the appearance and theme of your track or allow or deny certain abilities to change the difficulty.
Upload your finished tracks to the Swipecart servers for anyone to compete on. From there, share your tracks easily with the in game friends list and mail system, or share them on the internet through a link.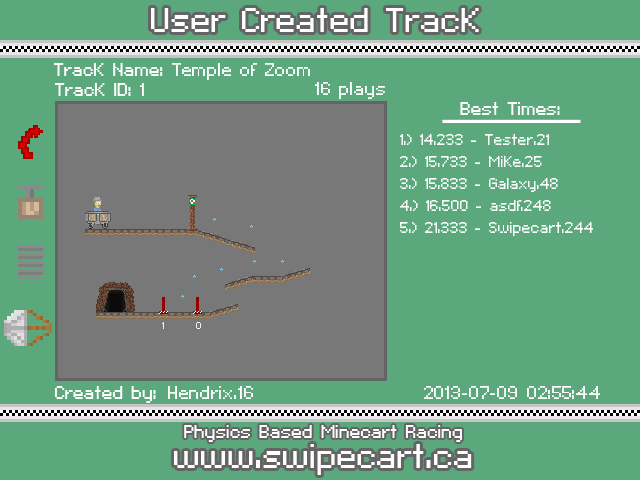 Play your driver profile across multiple devices. Play on multiple PCs, or move the action to your mobile or tablet (mobile versions coming soon) and keep playing right where you left off. Play wherever you want with whatever you have in hand.