Hi everybody!
We've finally made the move, and published Space Ranger ASK to STEAM GREENLIGHT!
Fingers crossed that all goes well - please visit our Greenlight page by clicking the image below and show your awesome support! We really appreciate it!
We're currently working hard to get Space Ranger ASK ready for the Android platform!
Android is very touchy on heavy graphics, so we're making a lot of changes behind the scenes to make everything run smoothly.
One of the most important changes is the new Performance setting, which can be selected in the game options. We added a corresponding value in the Level Spawner settings, where you can choose if the particular spawner should be active on Low, High or both performance settings.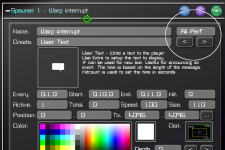 This allows us to disable all the really heavy graphics for the slower devices, so the game will still run nice and smoothly.
Besides that, we plan to keep every single feature that is available for other platforms - meaning you can still create and share Missions across all available platforms! =)
We expect the Android version to be ready within the next couple of months, unless we encounter more obstacles to overcome!
Thanks for reading, and have a great day!