Its been a long time since an update's been posted. The new version of Reprisal - Reprisal Universe - is adding a big chuck of exploration, collaboration and discovery. That's the aim.
Reprisal's Universe is not only proving a technical challenge, but also a design and artistic one. I started on an artistic direction which I thought was awesome, only to find it eventually becoming limiting. I spent a frustrating few weeks trying to make it all work but in the end I have decided to scrap it and start again. So where are things now?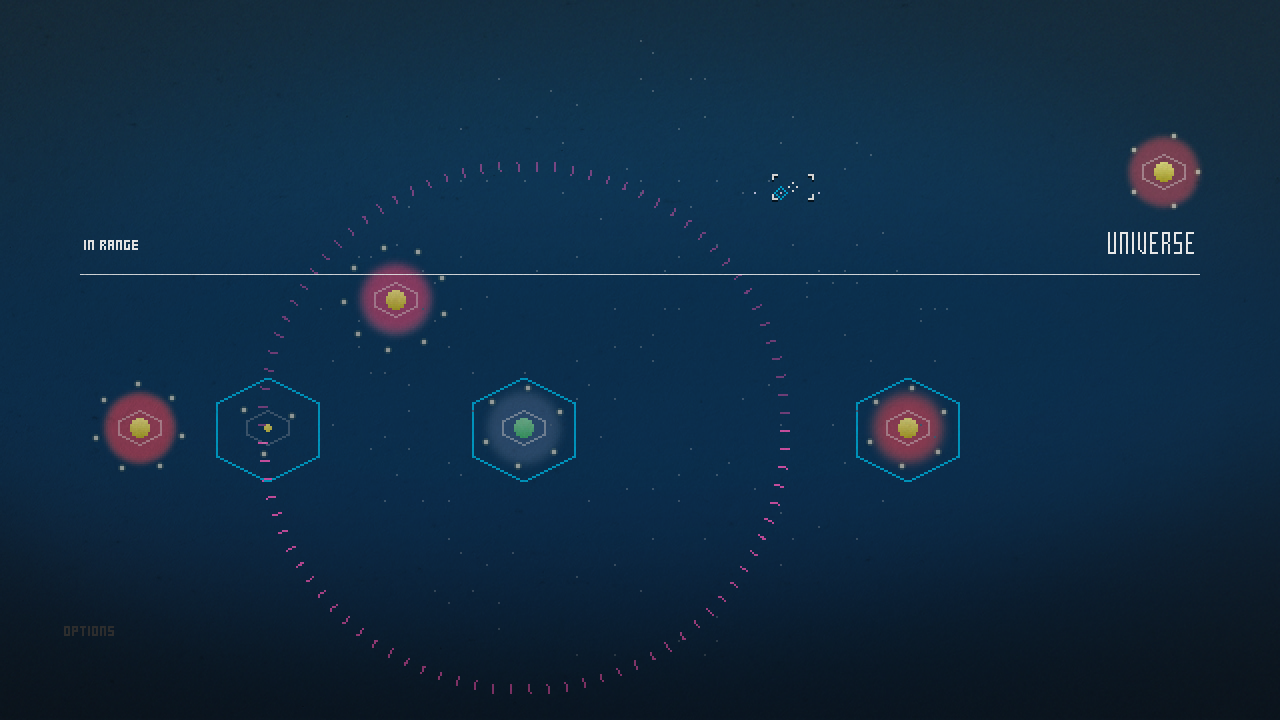 The above screenshot is the new direction for the Universe's navigation and it's all clicking into place which is a weight lifting! What you can see in the screenshot is the main display of planets (which can be dragged around) and then an overall mini star map overlaid.
Each pixel in the mini star map symbolises a planet. You will be able to navigate to planet's within your range or influence which can be expanded by settling on new planets. At the time of writing it looks like there will be in the region of over 130 planets combining some 800+ islands for everyone to explore.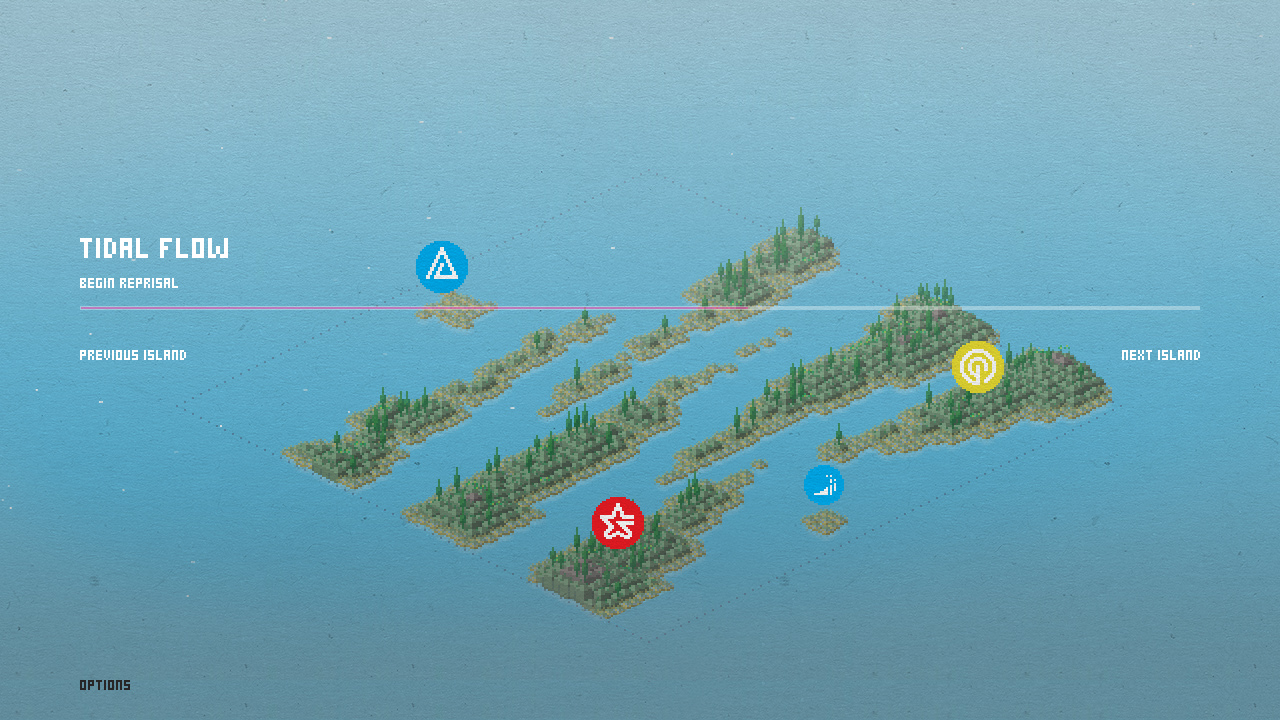 New preview / summary screens are now in place making things a bit more cleaner and less cluttered. These will provide landing point for Planets ready to explore.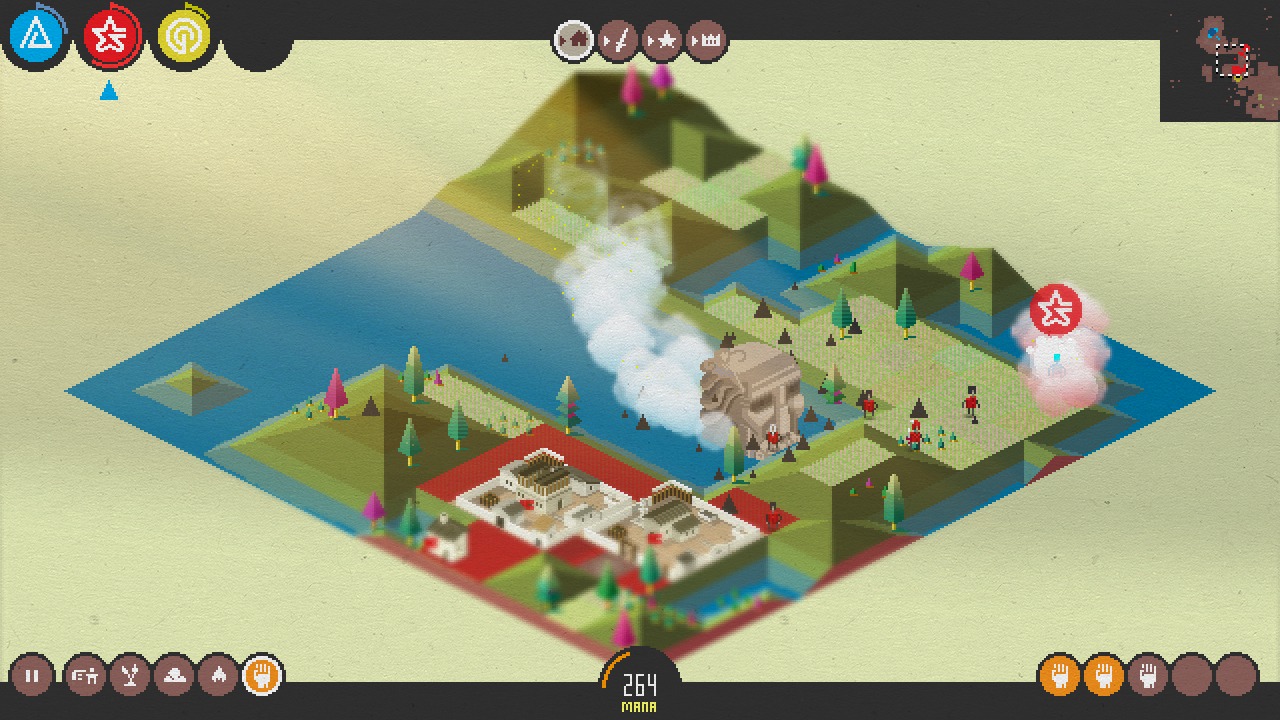 The new Wonder elements and totem's are taking shape. This chap chops his way through anything! Eventually his direction and position will all be controllable. Wonder points are collected in the Universe depending on the amount of Earth / Wind / Fire totems you use.
Below is a work in progress from some of the procedural islands that are being created.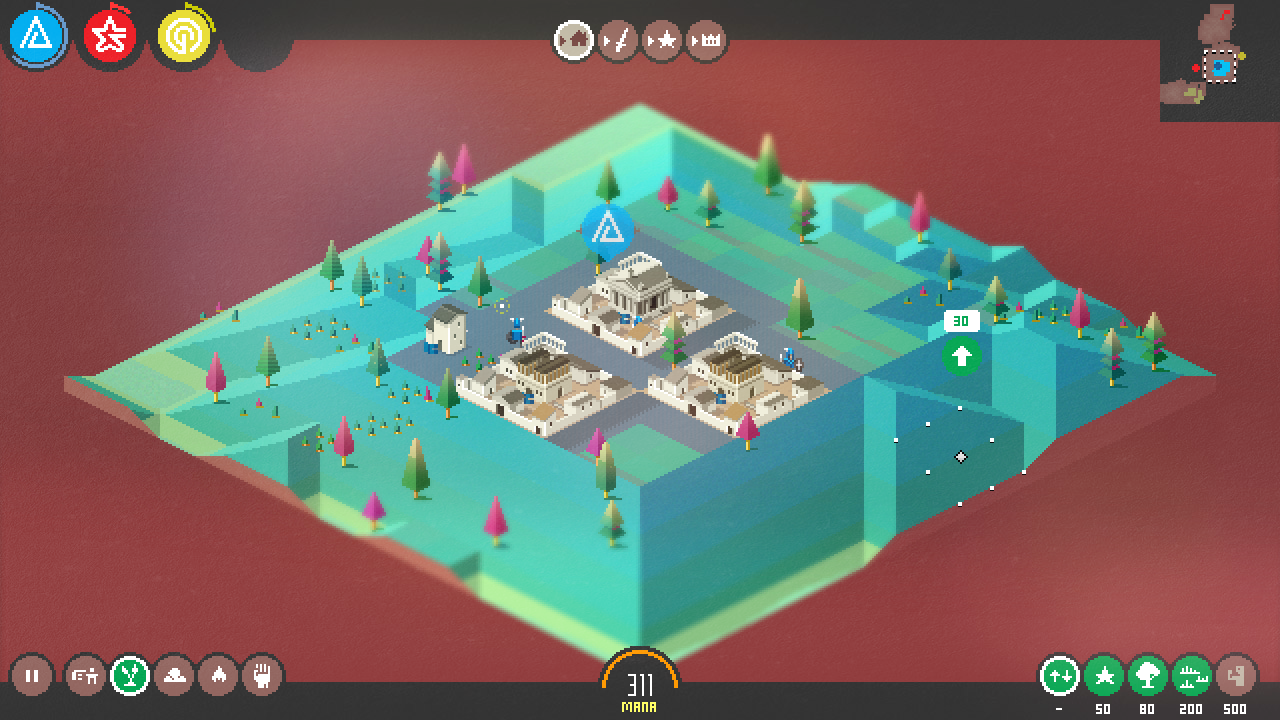 Other new development updates include:
- The game's logic has been flipped! After reading a lot of feed back and sitting down with numbers I've changed how buildings create populants.
The new logic makes populants quicker with smaller settlements, but they are weaker. Bigger settlements make populants slower but they are stronger. This leads to a different strategy, either make lots of small settlements to increase you population fast - but it will be weak. Or build bigger settlements to make a stronger tribe.

- Populants now bump merge. This means if two populants are close to each other or bump into each other they will merge to create a combined stronger populant.
- Populants are now smarter. There were a bit dumb so have beefed up their AI to help them settle better. I'll continue to improve this over the dev.
- Terraforming now has a new manna cost system. Lower land will be cheaper to effect, with higher land being more costly. This feels good as it starts to prevent spamming. As a player you will start to have to think should you save manna for totem powers to disrupt other tribes population generation or expand.
That's it for now. I realise it's been a bit quite as I mentioned but be assured that things are progressing! As always you can keep up to date over on Twitter or Facebook page. Feel free to send any feedback :D