Update 1.1
Hello fellow gamers, developers, fans, haters and members of the clergy. Update 1.1 is coming, bringing you more reasons to keep you swiping and dashing till you fingers bleeeeeeeeeed!
The update has been submitted and we're awaiting Apple's approval. If all goes acording to plan it will hit the Appstore later next week.
WHAT'S IN IT?
So here's a list of what's new in Super Bit Dash!
Characters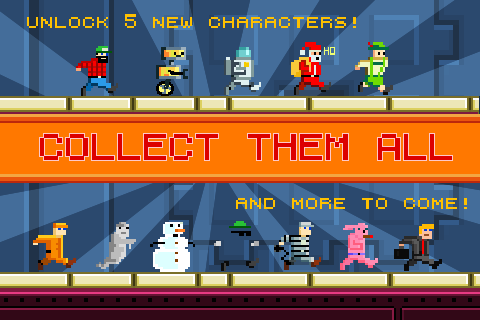 Unlockable Pixelated Characters
You know those coins you keep picking up in Super Bit Dash? Now you can buy characters with them! All the characters below we're ideas pitched by fans - so YOU might have YOUR own character in the game. Just add us on Twitter and give us some ideas, don't be shy ;)
Store
Characters aren't the only things you can unlock in Super Bit Dash. We also have new powerups like the coin magnet, extra lives and dashes.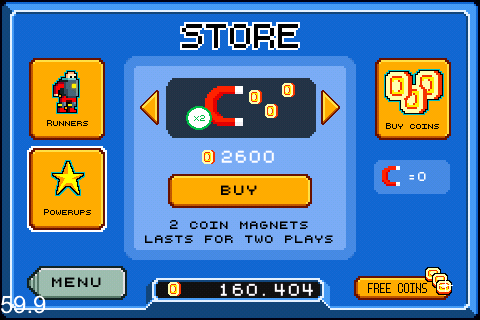 Super Bit Dash's Store
Unlock a multitude of things in the store. We added IN-App purchases for those who don't wan't to wait for any upgrades or characters and also Free Coins (Tapjoy) so you can get more coins fast if you so desire.
We made sure that EVERYTHING is affordable, you can unlock anything just by playing the game. We have players that get 1,000 coins just in one go, so we're confidant that everybody will be able to enjoy the store. Of course if you feel prices are to low and you unlock things to easily or the other way around please let us know. This game is for YOU. We love you guys and gals!
New Levels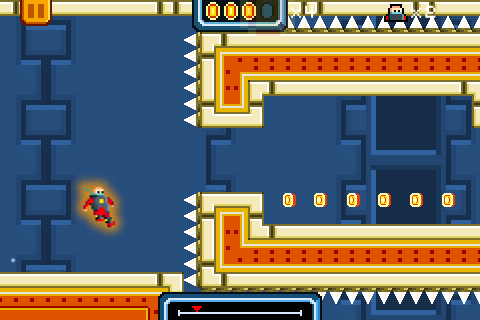 one of the 25 new levels
25 new levels will appear in the random roll that decides your path every time you play. We have to apologize for failing our 40 new levels mark as promised. The guy typing this post is responsible for the failed promise but he'll be sure to deliver the remaining 15 very very soon. Soon.
Sounds
We added sounds to lasers and falling blocks. Bit by bit the game just keeps getting better right? :)
Android! We are now running on a crossplatform engine that will allow for simultaneous updates on both android and iOS. Not a big thing for you Apple heads but great news for Android users (who will get SBD soon).
This took allot of time and that's why you haven't been getting your updates as often. No more excuses though. Prepare for frequent updates because we'll not rest until we have ONE HUNDRED levels and a new mode for you all to play.
Check Indie/ModDB next week for we will announce the update as soon as it's LIVE.