SandboxGameMaker.com has released version 2.7.1 of its award winning open source software Platinum Arts Sandbox Free 3D Game Maker in anticipation of the upcoming RPG Mapping Contest. In addition the beta of the Game Design Community Social Site has been made public.
The free download is available at SandboxGameMaker.com< with no spyware and is open source.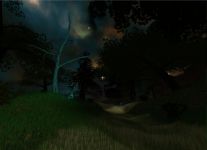 Key Features:
ART
* Removed non-free textures in an effort to make all Sandbox content available for commercial use.
* New music from cork279
* New Textures thanks to tyche
* Enhanced particle sprites provided by JSoftApps
* Re-added sliders as an option for most properties in the entity menus. Toggle available in the Misc tab
* Remip/map optimization vastly improved
* Support for international character sets
* Lots of bugfixes and tweaks
RPG
* Improved AI
* Wielded equipment
* Resistances and Thresholds
* HUD tweaks - reenabled damage compass, hotkeys, & flashing of the health bar on critical health
* Enumbrance - you can carry 2x as much as your limit at the cost of mobility
* Many more listed in the changelog
Mapping Contest:
Check SandboxGameMaker.com for more details.
Platinum Arts Sandbox Free 3D Game Maker Social Site - Game Design Community:
Sandboxgamemaker.com
Currently the site is in beta with many changes planned but is a functionable means to socialize with fellow game designers and advertise video game related content.
About Platinum Arts LLC:
Platinum Arts LLC is dedicated to providing the best in fun and free software and game design tools. The projects Last Man Standing Coop (Doom3Coop.com<) and Platinum Arts Sandbox Free 3D Game Maker (http://SandboxGameMaker.com) have in total been featured in over thirty magazines and received many awards including Best Doom 3 Mod Of The Year at the IGF for Last Man Standing Coop. Both Last Man Standing Coop and Platinum Arts Sandbox Free 3D Game Maker have been in the top 10 for best mod/indie games of the year at moddb out of thousands.