This week was a bit slow for Party of Sin. Vince, our gameplay engineer and level designer had a business trip to New York, which slowed things down. We've been on a down after the high of PAX, but I'm confident we'll return to our stride and pick up momentum. I also missed last week's weekly update since I was in California.
Our current milestone is a demo for Microsoft. At the same time we're pushing to have the beta of the game ready in time for E3 (June 5th). We're still missing a few features and levels, but overall we're doing pretty well. The core of the game is complete, it's mainly polish at this point (which takes a surprising amount of time).
Steam Integration
I had a chance to get the game available on Steam this week. I've also been looking into C# wrappers for Steam and found the Community Express SDK. We're still evaluating it but it seems to be a pretty decent wrapper which will make Steam integration a breeze.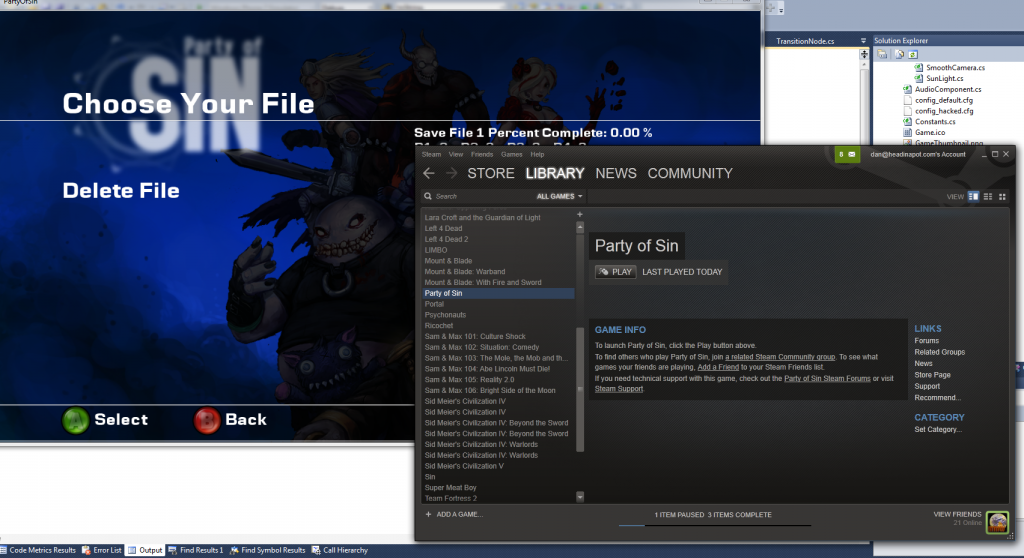 Animation Code
Our animation code got a pretty major overhaul. As discussed in our Animation Series, we use an in-house flavor of blending graphs for Party of Sin. One of the characteristics of our graphs before this week was that all our graphs were top-down. This meant that each node along the way (starting at the root) would decide which of its children would be visible. This caused a lot of problems though, because if you had a silly animation at the top of the graph (like say the balance animations from last time) and a more important animation wanted to play further down the graph, it would never actually become visible. I overhauled the system so our animations have priorities now, so a high priority animation can force a node near the top of the graph to change states.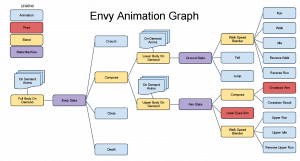 Animation
Liz worked a lot on the animation. Many of our sins got new turn animations. She has been working on adding the balance animation to all the sins and also tweaking the blending parameters to produce a better result. We have a lot of great new animations planned for the angels.
Liz will be giving a talk on animation at GameScape.
Testing Procedure
I finished working on the testing procedure we will use for the game. My girlfriend was the first participant!
Level Design
Both Vince and I got busy with level design in the last two weeks. Earth got a slew of new puzzles to replace some of the puzzles we weren't happy with in our initial iteration. Vince spent most of the last two weeks working on the Purgatory boss we discussed last time. It's gone through a few iterations since then, as we learned about what worked and what didn't in a "puzzle boss".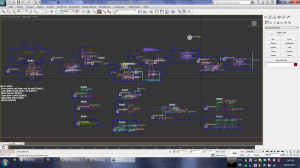 That's it for this weekly update!
Dan