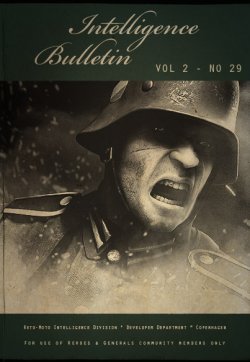 We have just submitted Heroes & Generals to Steam Greenlight, as we believe that the community at Steam is right down our alley! So far the response has been overwhelmingly positive, and we hope that we'll get enough attention to have the fine folks at Valve consider us for Steam.
To be honest we don't know exactly what will happen if we get a "Community Greenlight" as Valve hasn't been informative about that part at all. But we assume that they will contact us and offer us a contract. Usually it involves meetings, contract negotiations, more meetings, more negotiations, etc. before reaching an agreement.
There is also one risk: As we don't know anthing about the terms of the Steam contract, we can't guarantee that H&G will be on Steam even if we do get greenlighted. We might not be allowed to do things the way we want, or the deal Valve offers us might be very bad, or or a gazillion other reasons…
HOWEVER – as stated earlier, we do hope to get greenlighted, so thanks to all who have voted for us thus far!
The Eisenhower build is coming along nicely and with a bit of luck we'll move the build from our developer server onto our internal test-server next week. There are quite a few "large" system-changes in Eisenhower, amongst other things a new version of the lobby, 16 vs. 16 missions, a lot of backend changes and optimizations, etc. So it might require a longer testing-phase than the previous couple of builds. A very rough guess would be to have the Eisenhower build up on the live servers in about 3 weeks from now… But as always, we can't say for sure – we might make it a tad faster, and we might be a bit delayed!
And to newcomers waiting for a Beta-key: Fill out this survey to jump to the front of the Beta-queue. New keys will be sent next week!
Do you want to receive the weekly Intelligence Bulletin by email? Then go to your Account settings, press 'Change account settings', check 'I want to receive weekly development updates' and press save!
Propaganda this Week
Developer Blogs this Week
"Well, we really want to publish Heroes & Generals on Steam, so please help us by going to our Steam Greenlight Profile, and vote for Heroes & Generals, by pressing the THUMBS UP BUTTON!" Read More
By Reto.Goonstah, Programmer and Technical Lead
"About a month ago, Google released a new version of Chrome. That meant the death of self-installing plugins for Chrome. Heroes & Generals relies on a browser plugin to enable communication between the strategy game and the action game. Since they announced it, we have been working on a traditional installer that installs the plugin and the H&G downloader ("hngsync")." Read More
By Reto.Indusninja, IT Architect and undercover ninja
"I've patiently waited for months under the cover of mediocrity, and have finally succeeded in my mission" Read More
"1000 new keys has just been sent to 1000 users who filled out the Beta-key Survey. More than 2500 has filled out the survey, so far, so there are still survey users, who hasn't received keys this time, but all who fill out the survey will be placed first in the Beta-key queue." Read More
Team Debriefing
Design


Reto.RedBjarne, Game Director
"- assault team insignia
- autoresolve
- environment gfx bug fixes
- meetings
- planning"




Reto.Fleck, Level Designer
"Tweaking levels and fixing bugs all week. Working on making Access Points better protected as well."




Reto.Robotron3000, Community Manager & Game Designer
"Looking at bugs in auto-resolver/knockout period in response to Para-spam issues.
Designing assault team structure/updates/progression/XP/ressources et.al.
Warmap design and bugfixes, Added tapatalk to forum, upadting mobile version of forum."

Artists


Reto.Hr.Wille, 3D Artist
"This week I have working on weapon images, playing alot of Heroes & Generals and various other small bits and pieces."




Reto.Mato, Lead Character Artist
"Im making a German Parachute and Street Lamp Shaders."




Reto.Colding, Lead Animator
"This week I have spent some time on tools, Exit/Enter Bike (passenger) and switching to Perforce Streams workflow"




Reto.Dave, Environment/Props/Concept Artist
"Been remodeling and painting new textures for the bunker in the airfield level
Right now I'm trying to persuade Reto.Kensolo to listen to 'The Sword'"

Coders & QA


Reto.Goonstah, Programmer and Technical Lead
"Some optimizations on action game load-times
Working on the installer
Various bugfixes"




Reto.Hal9k, Render Programmer
"L-O-B-B-Y-A-N-D-M-A-T-C-H-M-A-K-I-N-G-!"




Reto.Leto, Gameplay Programmer
"Improved load times and more robust communication between the action server and the database."




Reto.Injection, Senior Programmer
"Perforce streams and content delivery optimizations"




Reto.Splixxen, Lead Tester
"- Test installer.
- Test Apps.
- Handle feedback.
- Verify issues/bugs.
- Verify fixes.
- Some other amazing stuff."




Reto.Indusninja, IT Architect
"- Starting work on restructuring data about commandnodes
- Restructure code to streamline creation of missionresources
- Work on warmapeditor"




Reto.Vashu, Flash Programmer
"- New spawnslot definition implementation [Eisenhower]
- Fixed bug with Multimarker [Eisenhower]
- A lot of small UI changes and code cleanup in the Strategy Project [Eisenhower]
- Researched new handling of chat, to avoid serious performance issues [Research]
- Shipped off all strategy changes for Eisenhower to Testing [Deployment]
- Started rewrite of Playerstats code [Felber]"




Reto.masterdisaster17, Server Programmer
"Fixed some problems with the new backend storage, as well as adding some validation routines during startup. Now implementing some serverside logic to prevent lingering connections on some user disconnects."

Sound


Reto.Draebesmoelf, Lead Sound Designer
"This week I have mostly been creating and trying out a lot of different achievement sounds for when you are awarded a ribbon while you play the action game. The sound I end up using will soon find its way into the game."




Reto.Lord, Audio Programmer
"More work on lobby & mission list. The functionality of the way the server handles the way characters join lobbies/missions were changed and with that the underlying database tables. As a result things needed to be done differently on the client."

Management, IT & support


Reto.Hansg, IT Admin
"1. Reinstall of server NOT in use. SRNR013 (disk crash). Boot manager fault.
2. TT to leaseweb about server crash (stadb server) Up and running again.
3. Fix server logs. Create filter. We get about 10000 lines of log/day.
4. Check NTP time server sync on all servers.
5. Backup Backup, Backup!"




Reto.KenSolo, PR Manager
"First of all I've submitted Heroes & Generals to Steam Greenlight – so if you haven't upvoted it yet, then hurry up, and get over there and vote for us! ;)
But I have also contacted some of those gaming media who hasn't written a preview about us yet, and reminded them of our existence."




Reto.Lusa, Project Coordinator
"Coordinating and keeping an eye on the work process for the next build (Eisenhower)."




Reto.Bacon, Support Manager
"- Returned to HQ on part time after being admitted to the medic bay with a war injury caused by a bicycle (Careful, those things are dangerous!)
- Getting up to speed with what has happened in the last two weeks.
- Support
- Bacon has healing powers!"
NOTICE
The Intelligence Bulletin is designed primarily for the use of the members of the Heroes & Generals community. It is a vehicle for the dissemination to them of the latest information received from Reto-Moto Intelligence sources about the development of Heroes & Generals. Readers are invited to comment on the use that they are making of the Intelligence Bulletin and to forward suggestions for future issues.
Reto-Moto Intelligence Division,
Developer Department