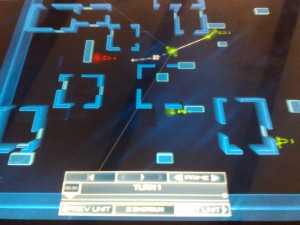 Ian and I just had an interesting conversation about the iPad UI based on my feedback yesterday. Here are some of the things we're going to investigate:
"Detail mode" – should you have a mode where the camera is zoomed right in automatically, allowing you to fine-tune stuff?
Linear orders editing – there should probably be some way of just moving an order around a plan in *time* using a slider, rather than physically having to do it, because the iPad lends itself particularly well to sliders. We're almost certainly going to do something LIKE this.
Unit selection – I currently like being able to both move the map and select units at the same time, but a better strategy may actually be to filter out unit selection and just use buttons on the side for it. Also, forcing buttons will provide an automatic solution for when units are too close together to select easily – it will just completely eliminate that problem.
Orders menu – I highlighted this as a big problem. It could be something that's done with a button or double-tap.
Most of this stuff is impossible to speculate about in abstract (it's the UI version of "theorycrafting", if you want a Starcraft analogy – I'm sure none of you did), so what we're going to do is decide on a subset of things to actually implement; maybe actually following the paradigm of implementing multiple methods for different actions to see which ones work better.
By the way, by being really open about early *thoughts* like this, I really don't want to attract comments like "OH GOD YOU ARE SO STUPID HOW COULD X THING POSSIBLY…" or "WHY ARE YOU NOT DOING Y…" This is not the point where we're really looking for external feedback, as we're still brainstorming – we haven't even tested yet – I just thought it would be interesting to document the process in light of where we'll get to eventually!Thoughtful feedback is – of course – welcome, however!