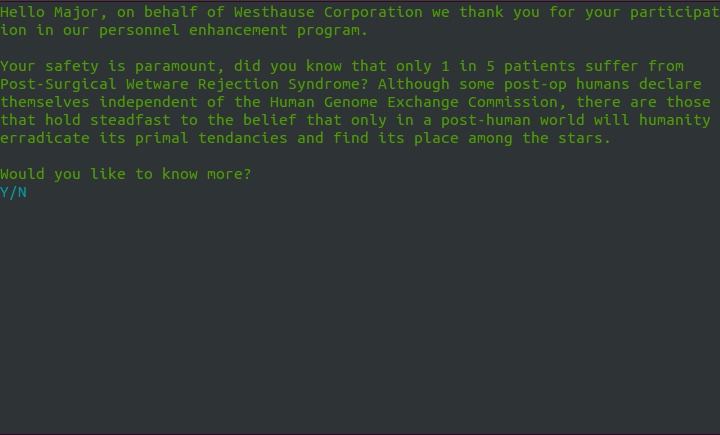 Post-Surgical Wetware Rejection Syndrome
Definition
Post-Surgical Wetware Rejection Syndrome(PSWRS) occurs in less than a quarter of patients having undergone artificial implant surgery. People with this condition experience strong feelings of disgust toward the affected area as if it were a foreign or perhaps implausible component of their body.
Causes
PSWRS is due to the patient's organic brain continuing to sort messages from transistors set in place to replicate the functionality of nerves that originally carried impulses to and from the affected area. Without the capacity to accurately determine the origin of these impulses, additional implants to the cerebellum are required.
Risk Factors
PSWRS is more common in adults than in children. Other factors that may increase your chance of developing PSWRS include:
Previous damage to spinal cord or peripheral nerves that supplied the affected area.
Symptoms
Post-Surgical Wetware Rejection Syndrome may cause sensations of:
Shooting, stabbing, piercing or burning pain.
Numbness, tickling or cramping.
Extreme spasms or involuntary movements.
Diagnosis
Following the procedure, it is important to tell your engineer if you experience pain or other sensations. Earlier treatment generally improves the chances of success. Medical tests vary based on the amount of artificial implants present in the patient's body. These can range anywhere in between reporting discomfort to running a neurological debugger on a cyborg's BlueBrain.
Medications/Treatment
Your engineer may recommend the following to help with your symptoms:
Biological
Antidepressants
Anticonvulsants
Antipsychotics
Opioids
Muscle relaxers
Pain-killers
Cloning
cybernetic
nano-stimulants
VR Motor Therapy
BlueBrain Re-synchronization
Download the full game here.