Lifetime account special
---
The monthly fee for playing Endyr will be EUR 5 (about US$ 7), with no additional charges (except maybe for purely decorative premium items). Now many people asked for a one-time fee instead, so here it is!
As a special offer (and to support the dev) you may now pre-order your lifetime account for only EUR 29.90 - That's right, less than it costs to extend your account for a full year! Not to mention that the longer you live, the more you safe ;-)
Take this offer to enjoy Endyr as often or as rarely as you like. Freed from the pressure to make it "worth your money" every single month. On top of that, pre-ordering allows you to join even secret beta tests of upcoming features.
Please keep in mind that this unqiue offer is only available during development - so get it while you can! Well, lifetime accounts will still be available later but at a much higher cost and without the beta invitations.
Latest screenshots
---
1) In other news I implemented something rarely seen in games, named "rust". Blades now rust over time if you don't treat them right. While rusty blades may cause infections on your enemy they might also just break on the next hit.
2) The second screenshot shows a bunch of items I'm just proud of (all pixel art by me).
3) And finally there's another update to item stacks: Now the stack display is updated even while you're chosing a certain amount from the stack. The screenshot also shows the new, nicer stack selector.
4) Finally (and just for fun) here's the central meaning of iron within the production tree: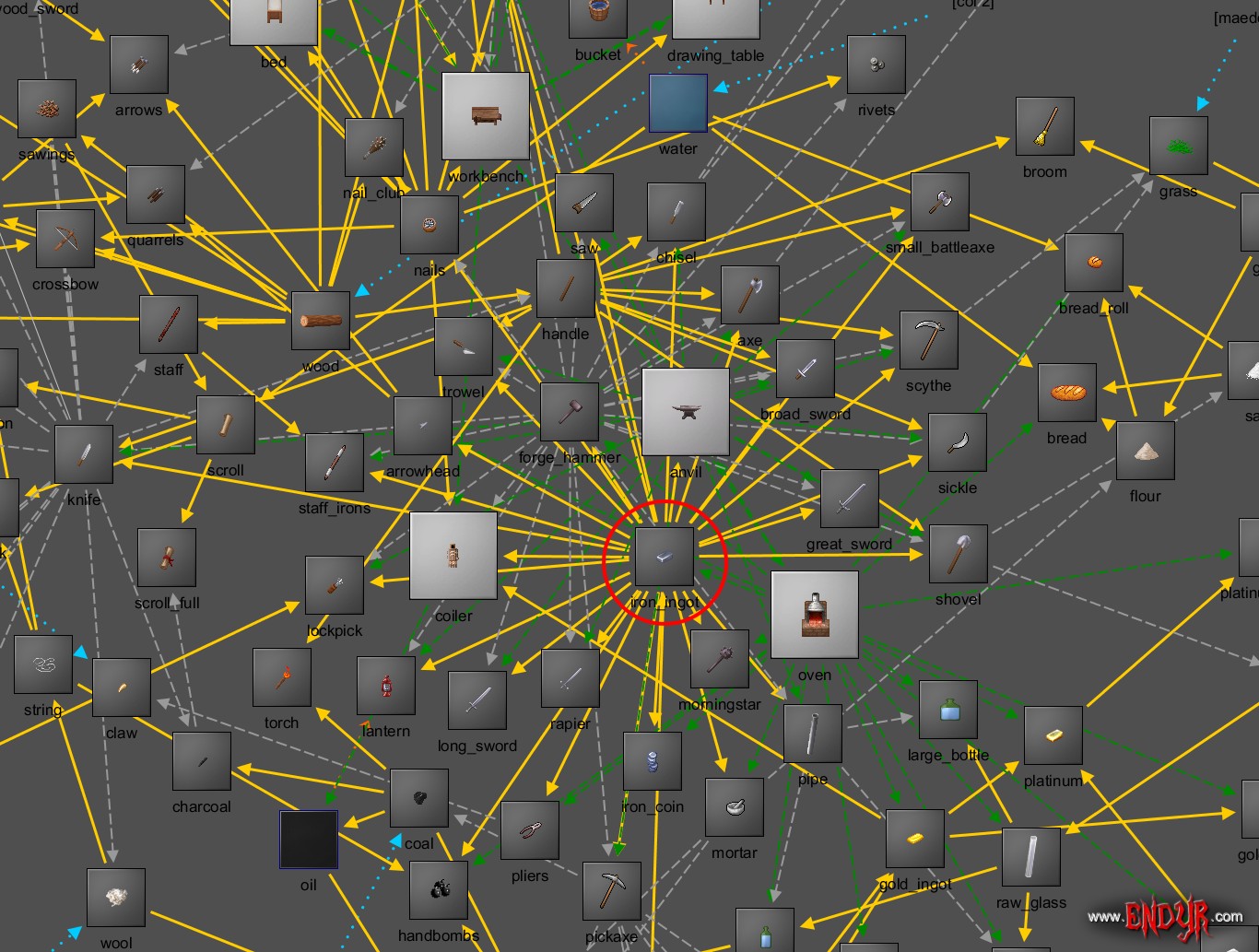 Yes, it looks a little complicated but that's probably just the connections overlapping. In fact, every single item can be crafted with 4 components max. I'll post further, more focused trees if you like. Please let me know through the comments.
Alright, that's it for today. Now it's your chance to pre-order your Endyr lifetime account! :-)
In any case thanks for your support and stay tuned for more.
---
*hopes to keep you eager
*
Yhoko