The Indie Gala launches its second mobile bundle! IGM2!6 amazing Android games, 2 Great Desura redeemable titles and the ultra-cool Mario-esque platform game TinyPlumbers of Robot Loves Kitty!
Pay what you want for 3 Great Android games: The Lost Souls, Battlegroup and Ichi! Beat the average to get also: Xelorians, Call of Cthulhu: Wasted Land, Little Stars for Little Wars 2 plus Spin Deluxe, Cute Things Dying Violently and TinyPlumbers!
As usual Buyers can "Pay What you want" starting from a minimum of $1 and choose, if they want, to support charities and good causes with part of their proceeds. This time INDIEGALA has decided to support victims of the earthquake which damaged Emilia Romagna region of Italy.For this reason part of charity share can be donated to sustain Croce Rossa Italiana (CRI) in its fundraising for Emilia Romagna. The other part will be given away for another important mission: supporting AbleGamers a foundation dedicated to bring greater accessibility in the digital entertainment space so that people with disabilities can gain a greater quality of life, and develop a rich social life that gaming can bring.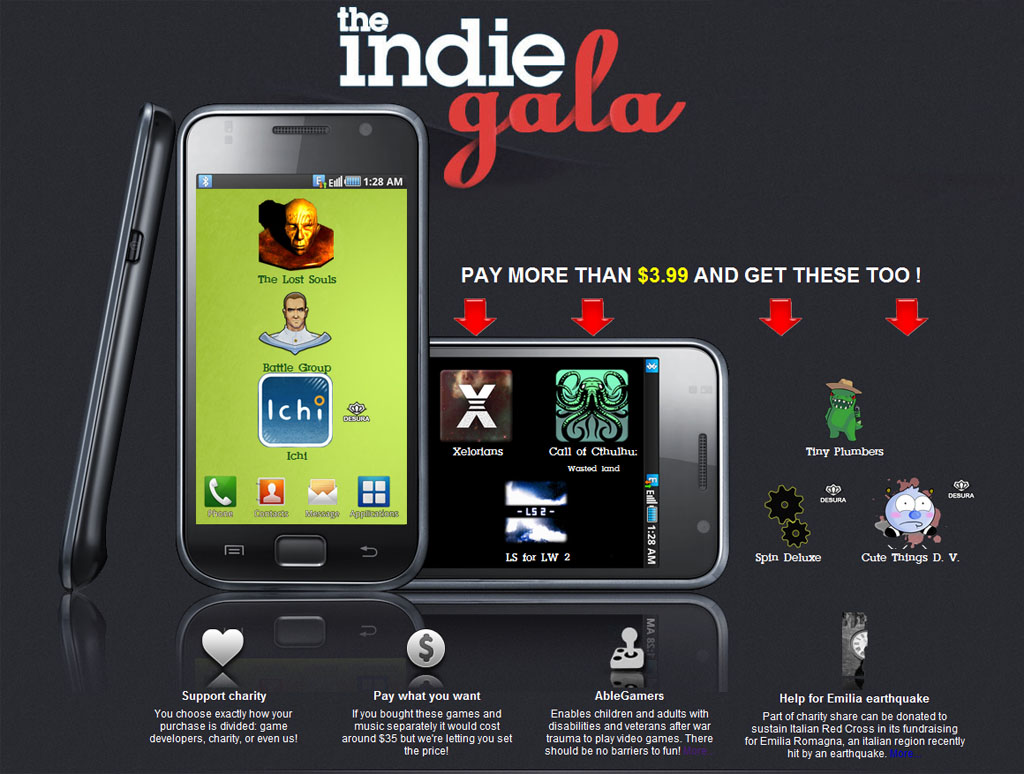 Pay what you want for
The Lost Souls:
A great "Escape the Room" horror game with high quality graphics, many scary scenes and some puzzles to Solve. The game is about a unfinished ritual and that becomes the player goal to finish it. Platform: Android

Battlegroup:
Destroy pirates in this missile command style tactical naval combat game! Platform: Android

Ichi:
An easy to play but challenging one button puzzle game. Don't be deceived by the game simplistic look, it's a brain twister for sure! Collect golden rings by rotating objects, using teleporters, breaking blocks and more. Platform: Android, PC, MAC, ( Desura )
Beat the average to get also:

Xelorians: "Storyline, graphics and game pace makes it one of the best space shooters on the market. Go and get it." - androidzoom.com. Platform: Android
Call of Cthulhu: Wasted Land:
A great turn-based strategy/role-playing game based on the award winning Call of Cthulhu RPG. "..you MUST download today...Awesome..." Guardian. Platform: Android.
Little Stars for Little Wars 2:
Form your strategy, conquer enemy systems, and claim victory for your forces!Little Stars is a space real-time strategy (RTS) game, where the player has a simple objective: move through the neutral star systems in order to capture all enemy systems. Once you start playing, you will lose yourself in fun levels, ranging from amusing to mind-challenging! Platform: Android
Spin Deluxe:
A puzzle with cool physics and unique exciting gameplay. You have to think hard in order to beat the game. Become a master of the world of Spin Deluxe and control its physical laws and properties to bring back the light of its lost Sun! platform: PC Windows ( Desura )
Cute Things Dying Violently:
The smash hit of the Xbox Live Indie Games Summer Uprising, now has been released on Windows! platform: PC Windows ( Desura )
TinyPlumbers:
Tony has a job to do... Save princesses to pay the bills. All across the eight realms Bosses have aquired valueable Princesses. Help Tony secure a bright future for Tiny Plumbers Inc. by "Rescueing" these damsels and exchanging them for piles of coins and mini-games at the Princess Mart!Tiny Plumbers is an ultra low resolution 2D platformer where the levels are a combination of user created and procedurally generated content.platform: PC Windows, Mac
Finally, those who beat the average will get a secret bonus EP and LSLW2 Dreaming-in-the-space original soundtrack!More information on the IGMobile 2 is available at its official website or via its Facebook and Twitter pages.
And don't forget! The average increases in the very first hours, so grab it now while the price is still low!
Contact:IndieGala
support@indiegala.com
Indiegala.com