Update 6: Shipshape
Ahoy, mateys! It's me again! And of course, I have an update, as promised…
We're on a new blog now, because we've been having a LOT of trouble with the old one… You can still visit it, but for now, we're going to post more updates here. We hope you enjoy the new look of things!
Anyway, this week, we'll be going over some of the things we've been doing recently to improve the look and feel of the game! I think you'll be pleased to see what we have to share.
Moving A-head… A-gain!
If you've been with us for a while, you might remember these headsprites.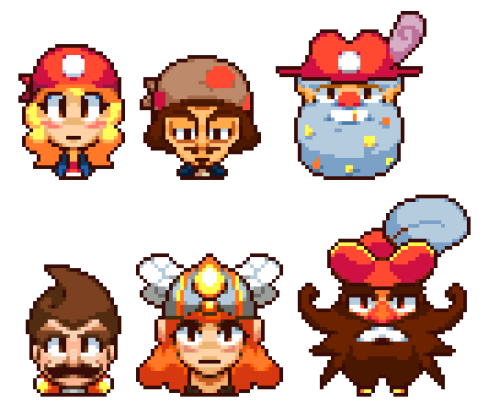 These old things were made a long time ago, and, as is usual in our team, we sought overtime to reiterate these headsprites to include more polished technique… And so I stayed up late for a few nights a while back and made these!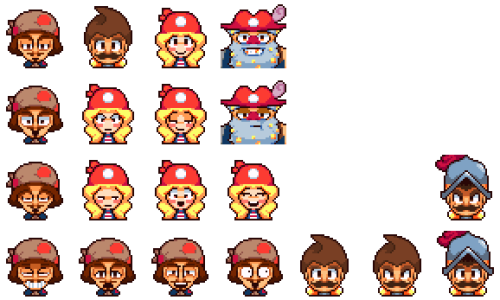 It's always been important to me that these characters express themselves in as many ways as they can, and headsprites help to really push that expression in a lot of fun ways. I've had a lot of fun so far making all of the various expressions you see here. And there will be plenty more where that came from, of course!
More text, more fun!
You may have seen our text UI in the video we posted last time. We like the look of it, but we realized recently that… it's a bit… constrained.
You see, writing text in an RPG format is a bit of a challenge, because lines have to fit the boundaries you set by your textbox, making every morsel of space you can get vital. It was becoming pretty clear that the space we had paired with size our font uses would lead to some very short and, frankly, not very interesting lines, so… We decided to make it wider! Here it is in action.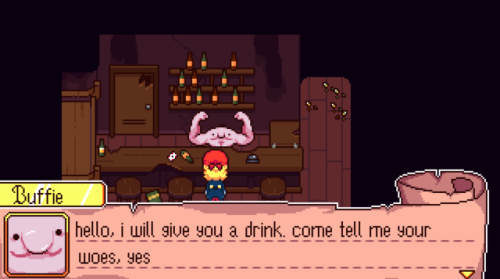 Hopefully, with this, we'll have a lot more space to work with… And a lot more jokes to tell!
Saving Face
We all like to save our game… I mean, who would want to lose the coveted memory of a grand adventure… Luckily, we know just the… parrot?!
Introducing Parakeep!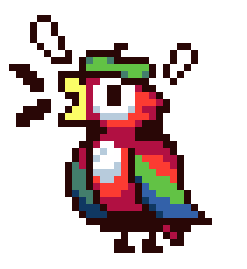 Parakeep is a very intelligent little bird who loves to talk and keep records of whatever someone tells them… They also love to wear hats.
Whenever someone comes close, they try their hardest to get the person's attention so they can have a conversation. People say that whatever you tell Parakeep, they can recite whenever they want… The question is, do they really know all this stuff, or is it just noises?
Jammer's Back…
It's Jam time! Enjoy a new song, courtesy of our music team!
Soundcloud.com
Don't Forget Our Socials!
Liking what you see? Well, we love posting new stuff whenever we have it… And here's where you can find us!
Our Twitter is where we usually post smaller things between updates…
We've also made a NEW Tumblr with a brand new, sleek look! This is where we will post the big updates from here on out!
If you want to meet some of the crew and have a good place to hang out, you can also visit our Discord server!
We'll also be launching a website in the foreseeable future… Stay tuned for it!
That's all for this time… But next time, we'll have a lot more exciting stuff to share…

See you then, and as always…
Bon voyage and smooth sailing!