Astronaught is a 2D pixelart platforming adventure that uses modern technology to enhance the experience < /businesstalk>
A few weeks ago i had a faint memory of a dream, which made me start working on concept art and assets, and eventually actual core game mechanics.
You play an engineer who is sent to a space station, which stopped communicating with other outposts, and you need to find out why their communications system seems broken, and fix it.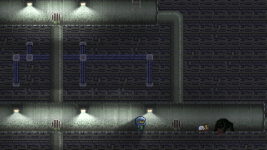 The game is set in a science fiction horror scenario, so you can expect some strange and gore-laden adventure. This game is influenced and inspired by the works of H.P.Lovecraft and H.R.Giger, aswell as games like Xenogears and Cavestory to varying degrees. The gameplay is about solving puzzles and mysteries aswell as navigating from one place to another using your equipment and the environment.
Astronaught is in a very early stage of development, and should be taken as such. In the coming weeks i will be working on core features in the engine and the map format to support basic stuff like animated map tiles, particles, dialogues among other things.

Astronaught 8BitFunding Campaign Trailer - Indie DB
***Important notice***
Finally i'd like to mention that there currently is a campaign running on 8BitFunding to fund the development. I appreciate if you could contribute or share it with your friends to help me build this game.
8bitfunding.com
If you want to learn about progress as soon as it is made, you can follow me on twitter
@wzl_
or for more detailed information head over to my blog
Redwater games
Thanks a lot
Stefan aka wzl