The Indie Royale game bundle site has announced its return with the April Fools Bundle, featuring five leading independent games available for a bargain, fluctuating price for the next five days.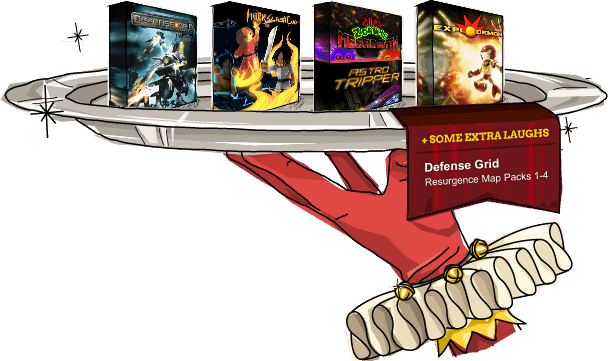 Headlining the bundle is Hidden Path Entertainment's Defense Grid: The Awakening, an acclaimed, futuristic tower-defense game for Windows on Steam, Desura, and DRM-free. GameSpot calls it a "quintessential example" of the genre and "compulsively playable" for newcomers and skilled players, as they attempt to fight off hoards of increasingly complex alien assaults. Defense Grid includes the free Borderlands expansion built into the main game, and we're also adding Steam keys for all four Resurgence map packs as a special bonus. (They're also bundled into Defense Grid Gold, via Desura key and DRM-free.)
Next up is Gooey Blob's accessible, retro turn-based dungeon crawler, Hack, Slash, Loot for Windows and Mac in a Steam debut, Windows and Linux on Desura, and Windows/Mac/Linux DRM-free. True to the Roguelike genre, dungeons randomly generate, providing a unique experience every time, as players uncover thousands of items to loot and monsters to hack and slash, accompanied by attractive retro pixel art.
PomPom Games offers a pair of frantic shooter titles in the form of Alien Zombie Megadeath and Astro Tripper for Windows on Steam, Desura, and DRM-free. In Alien Zombie Megadeath, players attack, dodge, and perform gloriously intense tasks while playing as 'ill-fated spacemen'. And in an update for to the award-winning Space Tripper from the talented UK studio, Astro Tripper affords players a tiny ship against hoards of other crafts and big bosses.
The final featured game is Curve Studios' incendiary 2D platformer, Explodemon for Windows on Desura and DRM-free. The title is an explosive homage to SNES-era platformers mixed with a modern physics-puzzle twist, and the PC version of the quirky PlayStation Network game offers all kinds of intense fun. And watch out for an Indie Royale-exclusive bonus related to this game a little later in the bundle.
Finally, those who pay more than the minimum for the April Fools Bundle receive an awesome vocoder-heavy bonus: Sexy Synthesizer's Japanese '80s-style chip album Rock: Deluxe Edition, available in .FLAC and HQ .MP3 file formats.. Those who pre-ordered the bundle also received this bonus.
As always, generous purchasers keep the bundle price low and give more to developers, as Indie Royale runs on its familiar five-day model where the price will automatically increase as more people buy the bundle.
Grab it now at: Indieroyale.com