3Domino's speed and difficulty can be changed significantly with a simple setting change!Allowing players to set the highest possible value of the in-game tiles (between 0 - 9) for single player, AI, and Hotseat mode means that they can completely change the speed and strategy of their 3Domino games!
The first screenshot shows a pretty typical board when playing with only 0's and 1's - it is very easy to place tiles because there is little variance, but it is just as easy for your opponent to do so as well! The battle for Bonuses is an entirely different mind game the lower value the tiles are. The average points earned for a single tile placement drops but the points rewarded for Bonuses stays the same!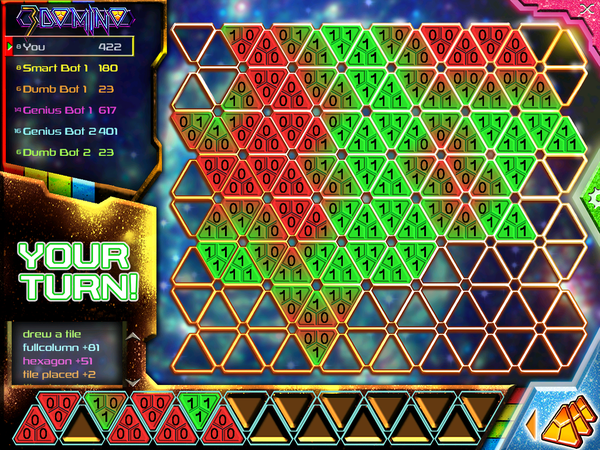 The second screenshot shows a very different board, this time with the value set to the maximum of 9. The increase in overall tile value means there are simply less places to match your tiles.
You will not only be competing for the coveted Bonuses but will be looking to place as many tiles as you can to earn even more points. Setting Bonuses up for yourself is one of the most fulfilling plays you can make, but you will be gambling on the fact that only your tiles can complete it!
Players will also need to be much more wary of their total hand's value as the game nears it's finish - all tile values at the end get subtracted from your score! It is much nicer to subtract a bunch of 0's than a bunch of 9's!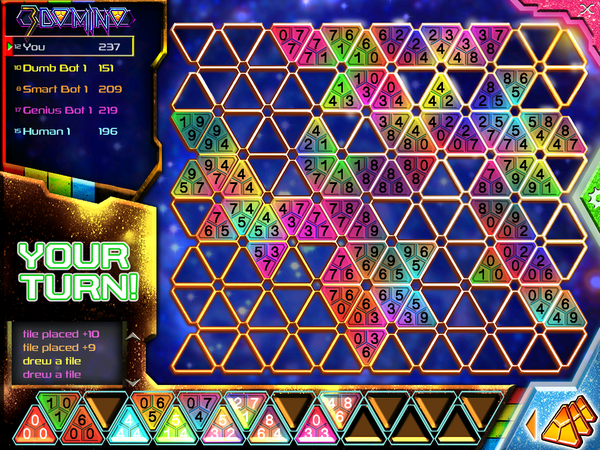 ---
Keep up to date on all things 3Domino and Art Castle!
Website: www.ArtCastle.hk
Twitter: @ArtCastleHK
Facebook: /ArtCastleHK