Make Adequate Background Music in 15 Minutes
Something Like this: (audio onlinsequencer.net via garageband, voice text2speech feature OS X)
Intro
We all know how painstakingly agonising it can be to find a soundtrack that fits our game. Because most of us can not afford a composer let alone an Orchestra to create a score or even an ambiance background track.
I was recently confronted with this problem, as a friend (studied composer) was suddenly buried in paid contracts, right after he agreed to do it for my game. But i can't pay him his normal rate, so no hard feelings, he needs to make a living. So here is how I got my Game "Soundtrack" in barely 2 days, with no prior knowledge of composition let alone musical talent of any sort.
Tools You'll Need
Google, my best friend as always provided me with: Onlinesequencer.net - it is an amazingly resourceful tool to do quick and dirty composing. Choose a KeyGuide and start hammering away some notes.
Furthermore OS X and Garageband were used - so borrow some friends old macbook, if you don't have access to one.
Tutorial Part 1 - MIDI
Step 1. Choose a Key Guide, only place notes in the bright places - music theory and such
Step 2. Doodle some notes
Step 3. Change Instrument - Doodle some notes
Step 4. Click Save, save the link to edit your masterpiece in the future
Step 5. Export MIDI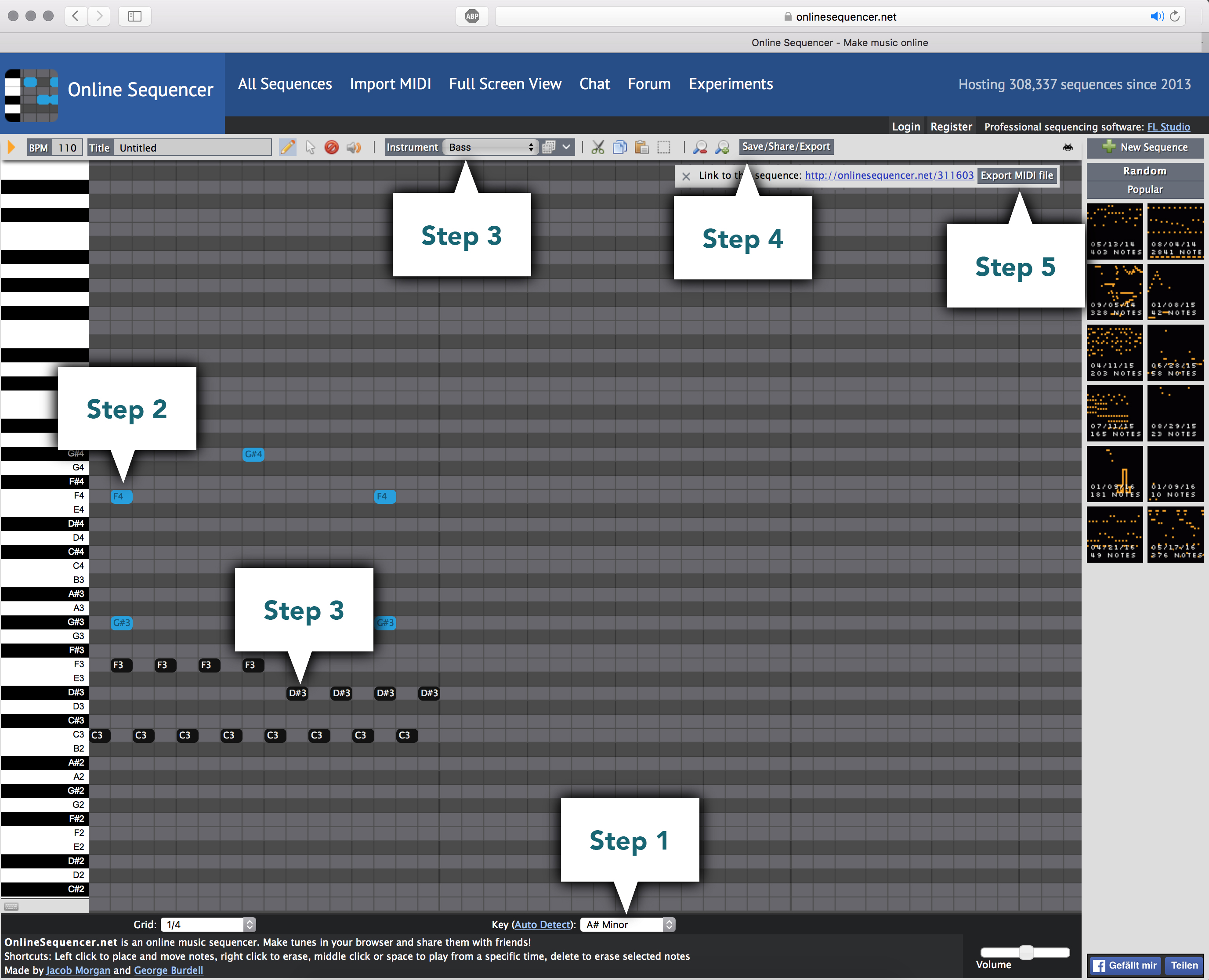 This is what i made on Onlinesequencer.net
Tutorial Part II - REMIX
Nice, on to part two, open the midi with garage band, and..
Step 1. Add New Instrument
Step 2. Choose Software Instrument
Step 3. Change Instrument - Synthesizer > Pad > Almost All in this category do wonders! Drag your MIDI track into that Instrument.
In Between Step: Play around by changing the Synthesizers. Try Multiple tracks with the same MIDI and different Synthesizers. Delete unused instruments with CMD + DEL. Hitting the little Headphones next to the Instrument let's you hear only this track (all other are muted).
Step 4. Loop your Tracks as long as you like.
Step 5. Menu > Share > Export to Disk > DONE!
Step 6. Have a Beer to and listen to your new jam!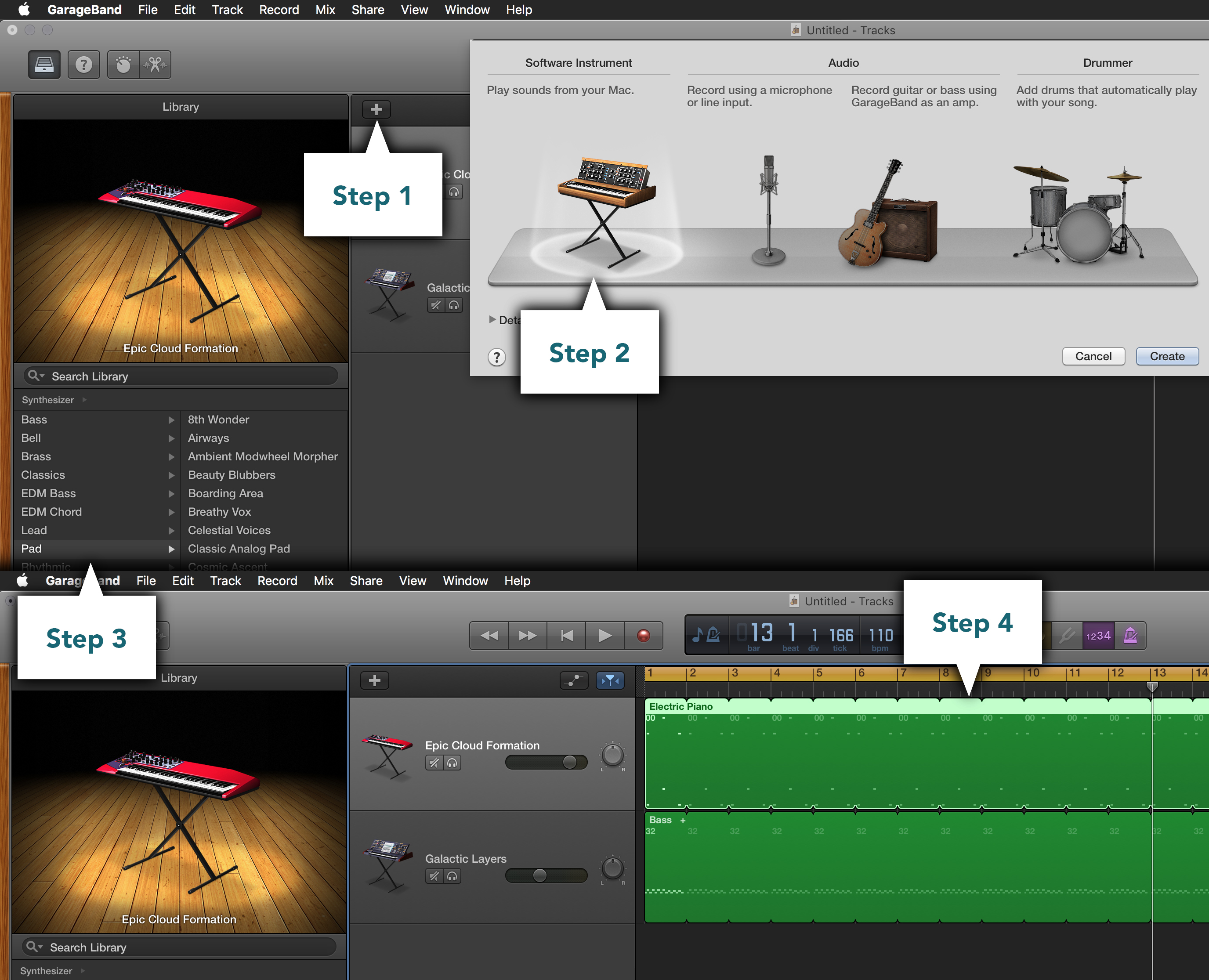 The Result
This is what I was able to render out of Garageband after only a few minutes of trial and error:
Here is the final composition from those simple notes: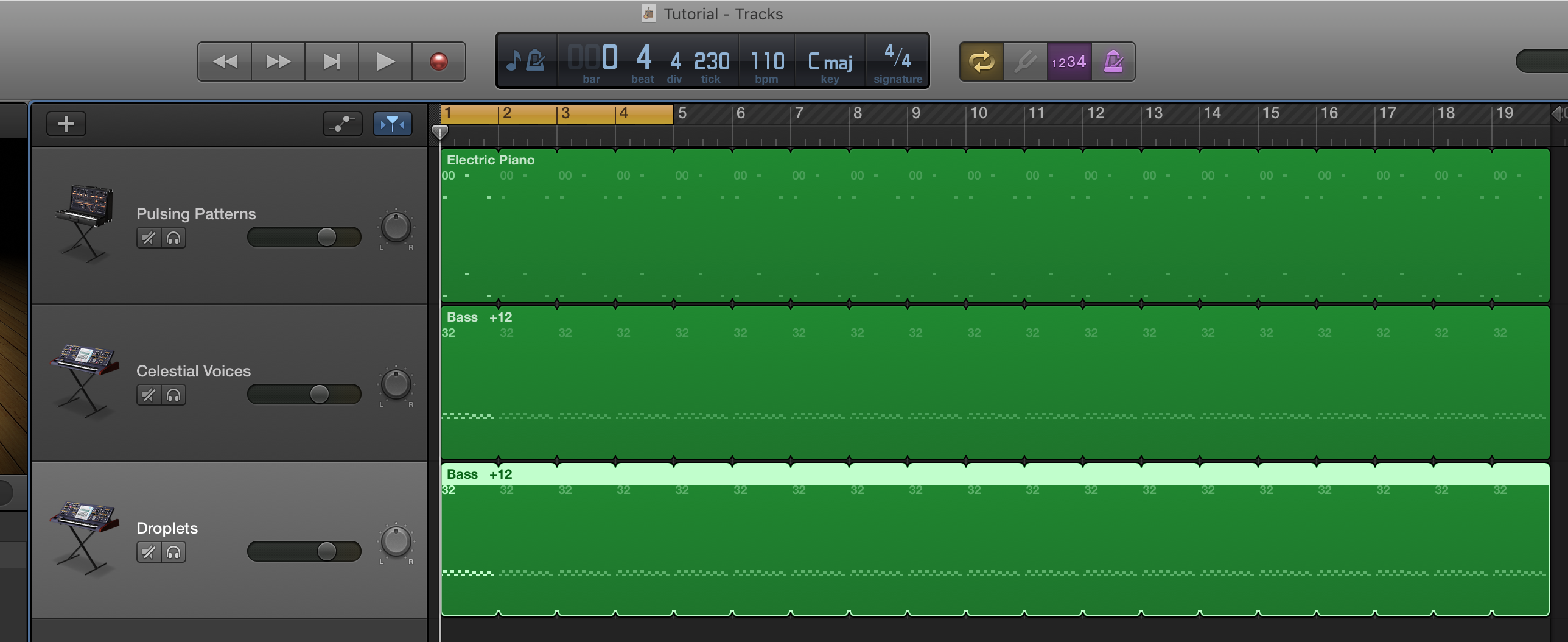 I used Pulsating Patterns, Celestial Voices, and Droplets, all are listed under Synthesizer > Pad > #
Final Words
So even though it might look daunting - it did to me, very much so, actually - it is not that hard to get some quick fix placeholder music or even simple tracks to make your project that much more lively. No more copyright infringing, only barely fitting pieces. Of course the best way is to get a musician - even better a talented one - to do your sounds and music pieces. but hey. even i got this, so if you ever depend on a quick and dirty fix for some game or movie background sounds, hope this helped.
Please leave a comment if you know of some amazing software (even better freeware) that provides the same functionality on windows. or just in general please leave a comment, let me know what you think: too simple, everybody knows this already, did it help and so on :) if you liked this you can also check out my upcoming game DONT PANIC here: Indiedb.com
cheers!