A guide to getting started in Osirus
Osirus is a game about creativity, and freedom. Nearly anything you want to do can be done in the game. There is a scripting language, and many other tools to create any content you can think of. The first few steps in Osirus revolve around creating your character and your first region.
Create Your Character
You begin as a shapeless wisp in Osirus. That is because the body that represents your character has not been created yet. This is done by first creating the 4 body parts required to make a character. Open your inventory, go to the body parts folder, right click on it, and hit create new body part, and create 1 each of the 4 types of body parts. Once this is done, right click on each one, and hit wear. This will spawn a naked representation of your character.
Fortunately you can repeat this process for clothing. Once you have created some clothing, its time to customize your character! Right click on your character, and hit appearance-> edit shape or edit clothes to change either. You can change your character's appearance at anytime in Osirus.
Request your region
The next step is to spend some time exploring the map. Be sure to hit world -> world map from the top menu. You can move with WASD and fly with E and C. You can also press M for first person view. Find an area where you would like to have your own region of land. Then follow the process outlined here to open a ticket and create a request for us to create you a region. Once we have processed your request, you will receive an email notification, and your new land will appear on the map for sale to you for $0, since it is your first request. Fly/walk/teleport(by typing in the name of your region in the URL bar at the top), and then on your top menu hit world->about land then buy land to take ownership. Make sure to cancel the sell order to you after you accept the buy request.
Time to start building!
We won't go too far into building in this tutorial, as it is very complicated, but we will get you started. Press Ctrl+B to bring up your build menu. There are tools to spawn simple objects you can edit into more complicated things(called primatives or prims) and there are tools to edit your land. When you spawn a prim, you can move it by dragging the arrows. You can press CTRL to rotate, and CTRL+SHIFT to resize. Explore the other options in the build menu.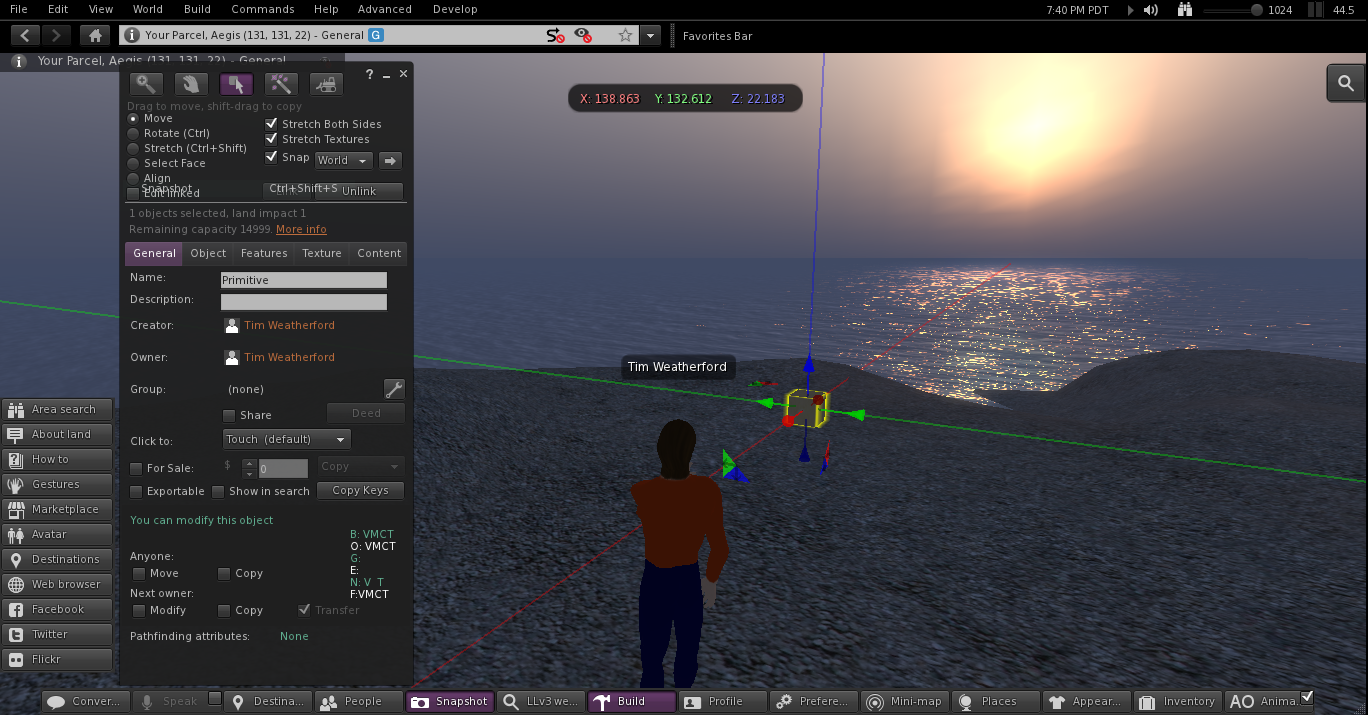 How to create a store/sell items
Thats is for now! Check back for more tutorials! Below are some more screenshots from around the game for your enjoyment.