ZSS on Steam Greenlight
Zombie Survival Simulator has been submitted to Steam Greenlight for a chance to get the game released on the Steam service. ZSS is an RPG/Simulation game based in a post zombified United Kingdom. Based on its own engine it hopes to bring a fairly fresh zombie experience to multiple platforms.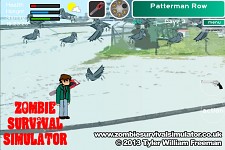 Features
‣ Randomised 2D Sandbox - you will hardly ever see the same area or events in the same way twice.
‣ Mini-games such as lockpicking, base battles and slot machines.
‣ Maintain a stronghold and its survivors. - set edicts, give speeches, expand and defend your base.
‣ Social experience - Online Leader boards, social network integration and Achievements.
‣ Play styles to suit casual and serious gamers. - complete the objectives, use as a virtual pet or explore the world freely.
‣ Cheap price tag (estimated £3.99 desktop / £2.49 mobile).
‣ Estimated release dates PC/Mac release (Sept 2013) Linux release (Nov 2013) iOS release (July 2013) Android release (August 2013).
Follow the link to vote for the project here:
Steamcommunity.com