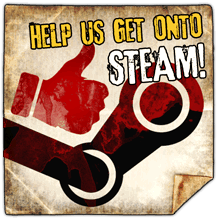 Zafehouse: Diaries is 74% of the way to making it into the top 100 of Steam Greenlight. With your help, we can push it the last 26%.
Here's the feedback we've had so far on Zafehouse: Diaries:
"It's a somewhat different beast from the usual 'shoot everything you see' kind of zombie games." - IndieGames
"Zafehouse is just as unforgiving as FTL: Faster Than Light ... If you seek a challenging zombie survival game, Zafehouse: Diaries will provide." - AlterGamer
"Zafehouse: Diaries gives you all the tools you'll need to create your own, epic zombie story." - Dad's Gaming Addiction
"Go buy it; it's the perfect practice for when the real thing happens!" - Cheapskate Gamer
Everyone who has previously purchased the game directly from us via our website will be entitled to a Steam key.
If you haven't tried it yet, we encourage you to give the demo a go.
Thanks to everyone who has bought the game and voted for us so far, every little bit helps us to make Zafehouse: Diaries better. You're providing us with the resources needed to continue creating the same kind of deep, compelling and original games.