We've nearly finished YSWMI Update 1, the first update to You Still Won't Make It, with new features, levels, and more! Some new features you should watch out for:
18 new levels:
We've brought the 18 'Classic' levels from You Probably Won't Make It over to You Still Won't Make It, and trust us, they're really, really hard. Not only that, but they're also revamped with YSWMI's gorgeous graphical style and full of little Easter eggs and stuff out there for you to find.
Linux version: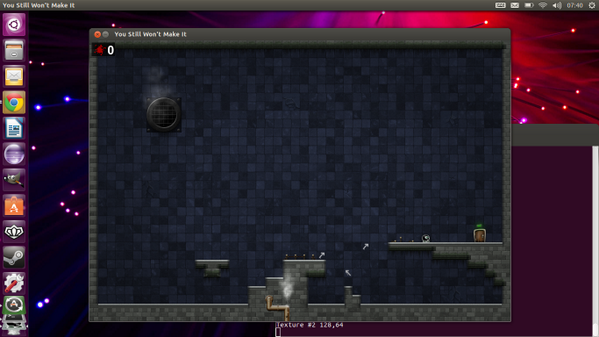 We've ported YSWMI to Linux! All of you Linux users should now be able to enjoy the full glory of YSWMI running natively on everyone's favourite open source operating system. Do note that we've only tested it on Ubuntu but it should run fine on other distros should the required dependencies be installed.
A few extra effects upon death:
We're keeping this a secret for now but we expect the game to be reclassified by PEGI and the ESRB due to this. :P
日本語:
We're localising the game to Japanese, adding to the existing localisations of Spanish, French and Dutch. If you live in Japan and/or have Japanese friends, don't hesitate to show off the game and get them playing! :)
To all of you Korean speakers... we've got a localisation in the works for you too, but we probably won't be able to finish it by this version. Rest assured that it's coming one way or another!
Gamepad & bug fixes:
We've fixed some issues with the gamepad (MASSIVE kudos to Razey, Scytharia, and figalot for making us aware of the issue) and it should no longer cause trouble. We've also made the full menu gamepad-compatible.
Proper fullscreen on the Mac:
On Mac OS X, the screen will now scale to fit the screen, instead of keeping the aspect ratio as before.
In other news...
You should really watch out for YSWMI Update 2. It will not only include some pretty fresh graphic updates, but it'll also include another 18 levels in the form of World 4, the Level Editor, Collectibles, and a (potential?) Greenlight campaign. So be excited...
We want your feedback!
We really need your feedback. What do you think of the Linux version? A future Greenlight campaign? Collectibles scattered across the levels? Any last-minute (quick!) features you'd like to see crammed into YSWMI Update 1? Would you like to volunteer to translate YSWMI to your language? We'd love to hear your thoughts. :)