X32I
X32I is now back from the dead, but it's now a 2D verticle space shooter. Though saying all you do is shoot ships would be a lie. This is a story based shooter, with leveling and a skill tree which focuses on offence/deffence abillities which can be unlocked and used in-game to further power your ship.
Information about the following 2 images:
The 2 images you are about to see are 3D renders (from royalty free kitbased 3D models), rendered at 3840x2180, and then edited within Photoshop CS3. While the following images are in-game quality and represent the current version of said ships, the real images are much larger and more detailed due to it.
Plus the ships are likely to have changes.
U.E.A. Britannia: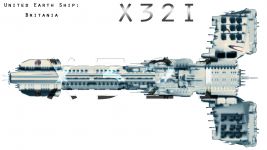 The pride of the United Earth Alliance, this flagship is so large it can be viewed easily with the naked eye from Earth.
The flagship is your ships, homebase. The Britannia while also large is also capable of incredible speeds thanks to the recent discovery of sub-light engines, which the ship has 2 of them.

NXA - 21: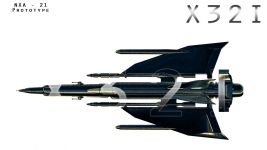 The NXA - 21 is a alien ship which was reversed engineered by many U.E.A. scientists, the ship while capable of hosting a live pilot, is primarily controlled by a sentient A.I., this A.I. is however tested, but it's not known how sentient the ship truly is.
This is the ship you will be flying in your mission over the battle of X32I which has now been going on for the past 100 years, since the discovery of the wormhole device, which links Earth to X32I.
Main Menu: (WIP)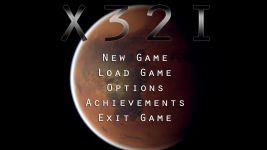 The menu is fuctional to a degree (the version of the game is too early for all the features to be implemented yet).