Dear World, we have shown you a little bit about our idea, and we have introduced you to our main character Alex... But we still haven't told you how our idea will come to life in a game. And we might be at fault, considering that that's exactly where we started. So today, we will tell you all about:
OIZYS Mechanics & Verbs
Developing Oizys, we opted for a bottom-up development: this meant first we decided the Mechanics, and only then started building our narrative on top of that. Originally, all we knew about Oizys is that we wanted it to be a puzzle where we could raise and lower plataforms and interact directly with the objects of the world, and we also wanted to explore the idea of a parallel universe reflecting on the mechanics - hence the Limbo was born: a medium place between Oizys and death, that the player encounters whenever he falls from Oizys Islands. Our Artist, Diana, made this very quick sketch to illustrate the Islands :)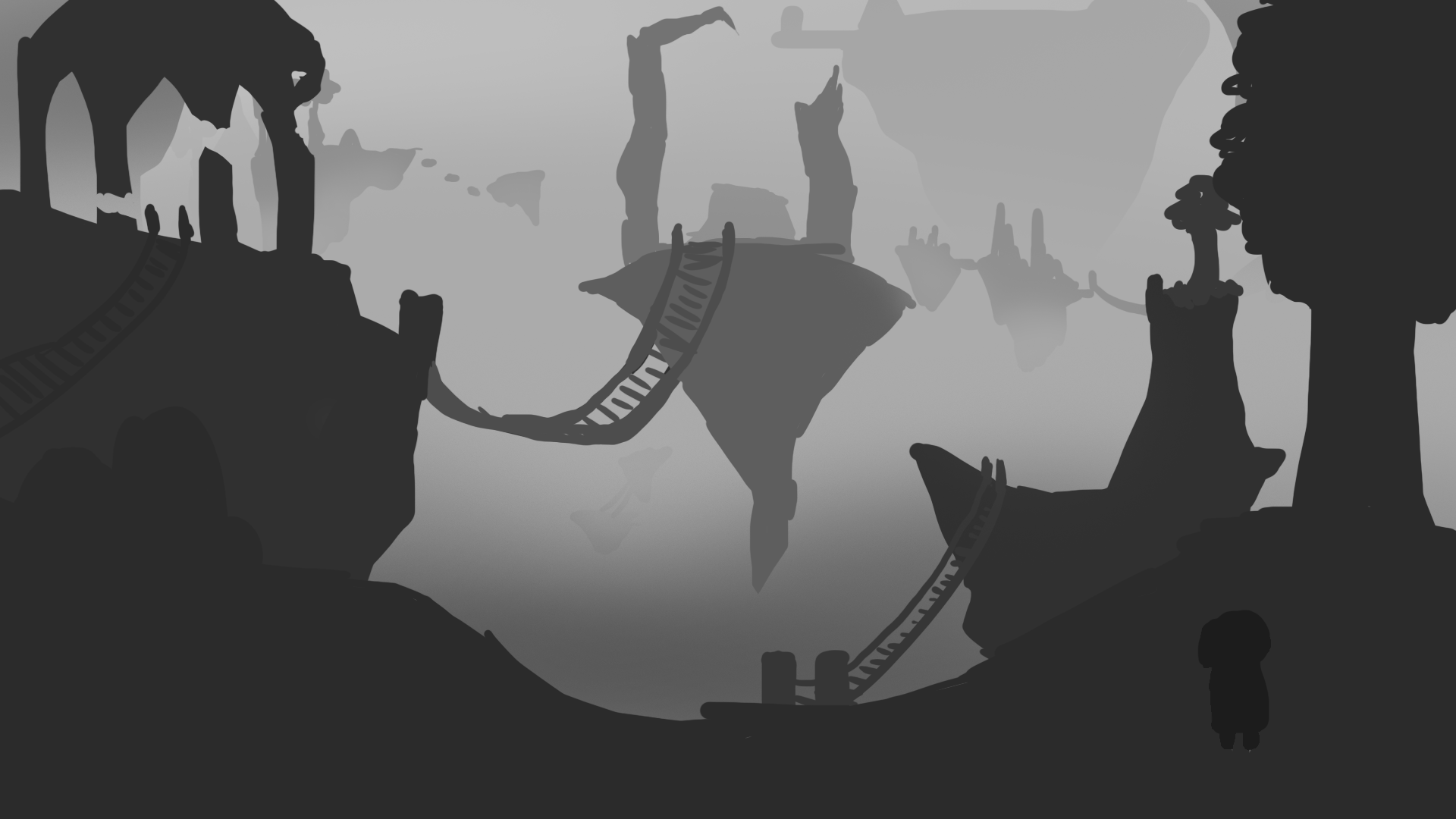 But we are getting ahead of ourselves... Back to our Mechanics: we have Several Mechanics, divided into even more verbs. There's so much to tell you about them (like how they are affected by the character's loneliness) that we will split them into several devblogs as we implement and test them on our build! Today, we leave you with our Push and Pull, and our Raise and Lower platforms!
Mechanics
Grab, Push & Pull
The grab mechanic is mainly used to move objects around the level: by grabbing them, we can push and pull heavier objects or carry smaller ones. Complementary to that, we are developing a carry/throw mechanic: when a smaller object is grabbed it is possible to then throw it (and this will be used to either break the object or aid in breaking other objects with it).
Raise & Lower Platforms
Our most exquisite mechanic is the raise and lower of platforms. This mechanic allows certain specified platforms to change their height, in between a possible height interval, when the player is standing near them in the ground.
We are also working on building puzzles within these mechanics, so if you have any idea or opinion on how to build interesting puzzles: your feedback is extremely welcome! :D Here you have a very straightforward puzzle using these platforms.
What's next?
Our Game Designer, Matilde, is developing our level design in order to see the difficulty potencial of our mechanics. Besides that, our Developer, David, is trying to figure the best way to make the animations runs smoothly for objects of different heights, and Diana (we've told you before - she's our artist, 3D modeler and animator) is finally finishing up Alex's model! To all of you reading this: Do you have any tips regarding the programming of the animations? What about level design for puzzles? Looking forward to hear your opinion and experience!
---
Have you read our last DevBlog? You can find it here: "DevBlog 2 - World, meet Alex!".
Stay tuned for all our DevBlogs, and don't forget to follow our Twitter, Facebook and Instagram! Thank you so much for all your support and feedback :)