In this week's beta update, we are adding several new weapons. Some of those affect gravity of objects around them, while others ignore gravity completely…
The main stars of this update are Magnet Gun and Gun Magnet. Both weapons shoot magnetic projectiles, which can mess with enemy projectiles when activated. Magnet Gun attracts projectiles, as expected. Gun Magnet, with its reversed polarity, repels projectiles.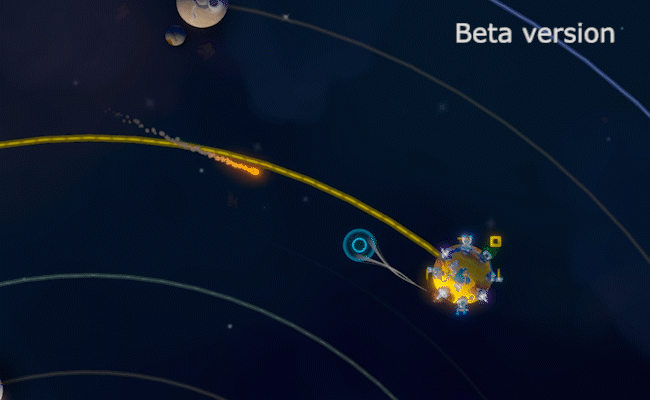 Another gravity offender in this update is Gravimetric Shield - a defense structure that, basically, places a giant magnet on your planet's surface, which repels all projectiles shot at that area.
And then there are those who don't care much about gravity. Plasma Cannon fires a powerful shot of pure plasma. As we all know, plasma isn't affected by gravity and moves very slowly, so hitting your enemy with it is tricky, but worth it. You also can't adjust the shot's angle, same as with lasers, so the timing is everything.
Wave Cannon fires shockwaves, also unaffected by gravity. You can hold down the fire button to charge the shot and make it more powerful.
Worbital Beta Update, 0.88.2882_Beta4 - August 8th, 2018
Features


Added new structures for each Faction

Terrene: Magnet Gun, Plasma Cannon
Lucid: Gun Magnet, Gravimetric Shield, Plasma Cannon
Celestials: Gravimetric Shield, Wave Cannon

Core Reveal

Once a planet's soil is damaged enough to reach the core, the soil that covers the core explodes away, revealing the core. This has no effect on the gameplay, but it looks cool and makes things clearer

Fixes


Fixed a bug that occasionally caused the UI to stop responding when interacting with the Planet UI
Disabled the ability to zoom in by double clicking on planets, as it wasn't useful and mostly just caused accidental zooms
Clarified some weapon descriptions

Adjustment


Asteroid Field now shows a red border when approached with a planet or a steerable weapon, to indicate where the collision will happen
Made weapon fund generation cooldown-dependent, so that similar weapons would be roughly equal
Increased Terrene Homing Missile's building damage aoe
Increased Glacier's soil damage
Reduced Glacier's cooldown and build duration
Reduced Planet Anchor's charge time, especially on the 2nd charge
Reduced Terrene Homing Missile's build duration
For the last week, we have been using a new system for distributing beta keys. It does take some time for us to go through applications and to select the testers. We understand it can be frustrating to wait for a few days and possibly not even get a key. Thank you for your patience!
As our server gets more crowded, it gets harder for us to reply to all questions, bug reports and suggestions. Rest assured that we do read all of them. Your feedback is what helps us make Worbital a better game! Thank you for testing and for reporting.
Blast you later!