First things first! After providing you three music packs with the release of the standalone we have a new one to attack your ears. Our well known all rounder Mighty Pete plugged some instruments into the computer and tantalized the strings heavily. Beside this he made a complete and new WoP album with 9 full tracks. The style of the music is something between Elektro, Trance and House. Facing the big difference to the other existing music packs of Dieselkopf and Green Sun with Industrial and Rock sounds, Pete's creation called "Carnage" fit's perfectly into the concept and is a very good additional soundtrack to the game. So download and extract the package directly into your WoP installation directory with the other pk3 files and turn the volume up. When in game use the ' m ' key to select it.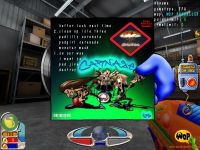 Mighty Pete:
"car·nage; Noun; The state my computer
is in now after i did this project, massacred came to mind."
Download Carnage MusicPack from:
ZIP-File: ModDB.com | gamefront.com
WIN-Installer: ModDB.com | gamefront.com
Second thing! The community is growing and the first mods for World of Padman are in the works by real fans. Three mod-betas are released by now, Black BubbleG Mod, WoP Extended 1.0 and WoP InstaGib with a lot of new possibilities and innovative gameplay. For InstaGib PaulR has a beta-test server running (62.75.222.123:27975). Please visit our Editing Forums to participate. These guys would be very happy about some feedback.
Last but not least! We found out that a lot of players didn't download the PadPack by ENTE containing some really nice and new maps. Without that mappack you get always diconnected from the servers everytime one of the new maps starts. Because of an compiling error the windows client doesn't support http/ftp redirect for a fast ingame download of missing files. Please, be so kind to download and install the PadPack manually.
Download PadPack from:
ZIP-File: eXtreme-players.de | ModDB.com | gamefront.com | kickchat.com | Frankenraecher | snt.utwente.nl
Windows-Installer: eXtreme-players.de | ModDB.com | gamefront.com