Oh, this is the chance I have to make a masterpiece!
Yeah, art is about this, isn't it? You are producing day by day, and you have continuous opportunity to wake up one day and realize that the song you composed the night before is just a fu**ing gem!
Is this that day? I'm quite happy with this Misty Marsh, the 9th track for the Wizards of Unica Original Soundtrack, but is it a masterpiece? Probably not. I'm posting here the draft, which has still to get the ultimate structure and polish, so you can analyze it in its raw form.

The Misty Marsh stage will have a Mesopotamian flavor, inspired to the real-life swamps of Arvandrud into the Fertile Half Moon. The Spirit of that stage will be Erishkigal, Great Lady of Earth, Scorpion Queen of darkness and illusion.
The player is gonna face a labyrinth of mud, trees and water, through the ancient ruins of forgotten empires wrapped by the fog.
I started creating this track almost one year ago, and I had something I really liked since the beginning, especially a sound glitch made with a wave of a trombone pitched on a C8 (very high sound, last octave of a piano), arranged on a cluster chord descending with a glissato and brutally interrupted.
//yourlisten.com/embed/html5?17483527
But the rest of the first composition was a bit too rock, with a invasive bass and rhythm, even for a contrappuntistic OST was a bit too much. So I shifted for a more immersive atmosphere, using two big pad crashing together into the backgrounds producing acoustic beats (battimenti).
Then I listen to a lot of traditional Iranian and Syrian music, in order to reach the right feeling without falling into classic arab chords which would have naturally led the song
to a cliché without the Persian feeling I wanted. More I got a lot of inspiration by Diablo II and Darksiders, two OST I never get tired to analyze.
But the top inspiration come from Batman the Dark Knight: for sure you remember the Joker's theme! Hans Zimmer created it making a cello playing two close tones (ie. C, C#) with an ascending glissato, spreading this feeling of crescent chaos and encumbering menace. I've been really marked by that solution and I wanted to use it here, but instead than an instrument I used female voice (lame soundfonts2 as I like!)
As for the other tracks, going further the music get more rock with drums and a distorted flute which resemble a guitar. Then the Scorpion Queen appears.
A didgeridoo open the dialogue with Her Majesty Erishkigal, and the music speed up to the fight! Middle east percussions, timpani and drum sticks enforce the rhythm into a war march, while glitches and strings add tension textures. Keep fighting, you strike the Queen to death, but she's far from be over.
For the last climax of the confrontation I brought into the staves the aria Der Hölle Rache kocht in meinem Herzen aka The Queen of Night, from Mozart's Die Zauberflöte, played by Diana Damrau.
As you can see there are a lot of common aesthetical choice about my Queen and the Damrau character: from the blue/indigo palette, to the shape of the dress, and I'm so proud of all this coincidences I've found out.
The track has been reversed and cut into pieces to get this odd and unpredictable melody. And then, finally, after your last hit, Erishkigal falls on the floor, sharing with you her power of Illusion!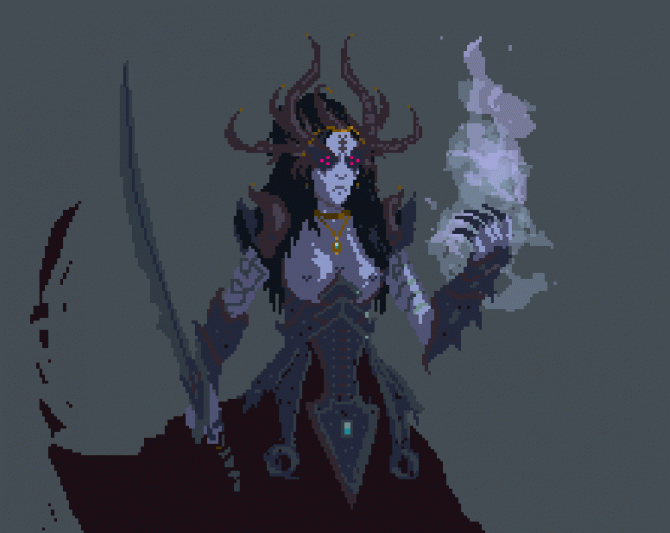 You can find all the other draft for the Wizards of Unica OST here, and please let me know what you think about this one, because your feedback are so precious to me!
I wish you a happy new year, full of good business, art and joy! Stay tuned for the upcoming alpha 0.2!
Thanks for your support
Daniele Lynx Lasalandra – Art Director
tweet at @TheBlindLynx