We have fantastic news! Wishmere has officially launched as an Ongoing Beta on Early Access! You can get the game on our website, itch.io, Steam or Humble Store! If you get Wishmere on either our site or itch.io, you'll pick up the Hero Edition for the same price, which comes with a free Digital Artbook & Compendium when Wishmere fully launches)


For our Ongoing Beta program, we are looking to fine-tune and perfect the character balance and meta, while we tune the game to be as challenging as possible while we keep the game's difficulty realistic. To achieve this, we want to include the players as much as possible with discussions, possible A/B testing, implementing changes to the game, characters and meta, based on feedback from the community. As we're avid fighting game fans, we love the process of 'loke-tests' and beta tests, and getting feedback while incorporating changes based on feedback. We plan to update Wishmere every week / week-and-a-half, adding in new major and minor content, balance fixes and meta changes, making aesthetic updates along the way.

Dealing damage and avoiding enemy attacks are key

These past few weeks, aside from getting our Ongoing Beta / Early Access build ready, we've added in a Tutorial Mode based on focus testing feedback. This is a run-through of the game's core mechanics and is great for a new comer to the beat 'em up genre. We tried to keep it as intuitive as possible without making everything seem 'obvious'. We love the Training BGM done by our musician, Gas1312 too. What a legit-boss track! We also tuned the Training Mode for players to try out their combos on a training dummy (don't worry, he's used to taking a beating!)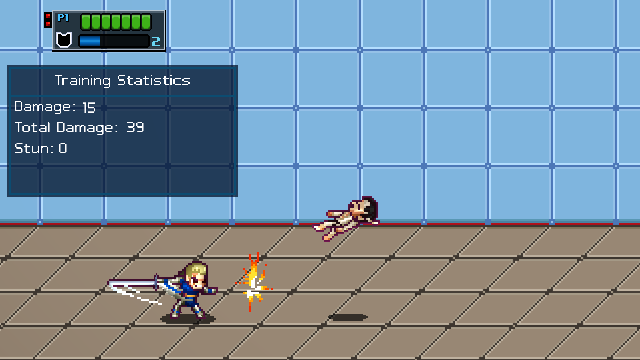 It's important to master what works for each class!


The exciting part of hammering out every characters' meta along with their Skill Upgrades took a lot of playthroughs to see what was exciting while keeping things fresh for every character. This part of the Ongoing Beta will be a continuous work-in-progress, as we try to make every Skill Upgrade matter, while balancing their costs and effectiveness; as well as the Skill Upgrade's impact on the shift of character meta. I know we've all played a game or two where one particular character upgrade was 'broken', and that's something we definitely want to avoid!

The Autoguard upgrade absorbs damage while you get to deal damage

We have a lot of exciting additions to come for Wishmere like: 3 more exciting characters, the full implementation of TeamUp Combinations (currently only Earle & Safford have theirs), crazy bosses and stages, more strategic parts of stages that require a little more thinking, and much more.
Thanks for reading everyone, and we're looking forward to the Ongoing Beta / Early Access ride along with you guys. Do check Wishmere out and let us know what you think!