GDC is on the horizon! How has life been treating everyone? With GDC coming up, everyone must be excited. We've been on turbo for the last couple of weeks, trying to churn out lots of content for our update.
Update 4 – Fate has just launched and we're really excited for it! For this update, we added a core gameplay mechanic into the game called the Fate system. The Fate gauge fills up over time and when it is full, you'll be able to use the moves from the Fate system: the Fate Advance and the Fate Burst. Performing either move will deplete the Fate gauge and it will begin refilling once more.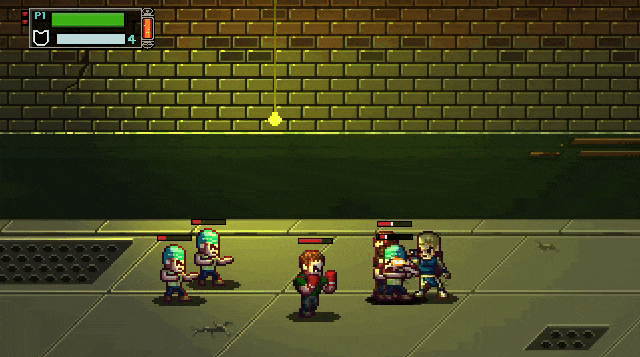 The Fate Advance gives Safford time to unleash a flurry of offense.
The Fate Advance slows down time for enemies for a few seconds, moving two-times as slow as usual. During this period, the player can move around as normal, leading to vicious offensive potential or get them out of trouble when taking damage. Fate Advance can be performed at any state (aside from taking damage when playing Versus Mode, done for balance reasons). We really love the sound effect used for the Fate Advance and think it sounds unique but at the same time not too jarring during gameplay.
While the Fate Advance leads to limitless possibilities for both offense and defense, the Fate Burst is purely for defensive purposes. When in a defensive state (taking damage or blocking), the player can initiate an emergency burst of a forcefield, knocking away all enemies. The Fate Burst is fast to execute and very wide in its range, making it a great tool and a keep-out maneuver.
We're also been working hard on finishing all character attacks, from a variety of Normal Attacks to completing all their Super Arts. Every character's moveset is structured to fit their class and their meta, and done in a way that every character has their own advantage and disadvantage. We'll be working on balancing the characters as we progress but man, did it feel good to finish their movesets!
Lots of content was done from this update (from boss tweaks to more enemy variety) but the one of the biggest ones was the addition of Versus Mode. Now, players can take to battling their friends in local multiplayer combat with up to 4 players. This was a feature we were very anxious to get out, due to the character difference and the multiplayer nature; we felt that it was quite natural to have a multiplayer mode pitting the players against each other. Looking at the character roster, we'll be keeping a close eye on keeping everyone balanced but each with its own strategy and reward.
Thanks for reading, and do check out the Change Log for a full list of changes (it might be a little long, our apologies!)
To view the Change Log for Wishmere: Update 4 – Fate, check it out here.
To read up on the gameplay in-depth for Wishmere, check out the Official Wiki.