Christmas is around the corner, and as usual, we'll be holding our Winter Sale between 22 December and 5 January. During this period most of our packs and bundles will be available at a 25% discount. As you probably know, the autumn period has frequent sales, but once the new year begins, there usually isn't anything for a while. So if you've been tempted to bag a few packs to play with later, maybe thinking ahead and grabbing them now on a discount would be the best choice for a while.
This year was quite extraordinary for all of us, so I wanted to look back and take some time to walk through what happened in the past 12 months at Overhead Games.
January has been kicked off with the creation of a new website. The other site was built using older technology and our needs eventually grow over its limitations. A lot of time was spent on building the current, since everything was needed to be recreated, mostly from scratch. This took quite some time and taking all the optimization that went into account probably filled a good part of February too.
With the new site, I took the opportunity to start writing News in a blogpost fashion so that anyone interested could keep track of what's happened, even if they aren't subscribers to our Newsletters. I started creating monthly Wrap-ups so we can still post an update on what's been in the oven even though nothing major happened worth sending a newsletter for. You can find these Wrap-ups in the News section:
Overheadgames.com
In March, Throne Lady #2 was released, and we also held our 6th Birthday, where we sent out a free pack to all subscribers in our Newsletters.
In May, after long years of waiting, we finally released the option to export the characters as layered PSD files. We wanted to make sure we are providing this option the most optimal way possible for our users, so we had a detailed questionnaire prior to the release, where we asked our Pro users to discuss potential pricing and the form of release. We were really happy to see so many replies and we were confident we'll provide the exporter in a way that most of our users will be happy with.
We also released ePic Character Generator on itch.io at the same time. While I wanted to provide the best, integrated experience for users checking out the software there, I failed to get the attention of the support team, so I was unable to properly configure the options for users to purchase packs on itch.io directly. As a result, all transactions will still go through our website similar to how it's done in the standalone client.
In June, the male pair of the Throne Lady, the Throne Savage was released. It was interesting since this was the first package where we provide full coloring options for the skin, and as a result, even with a single base character, lots of exciting personalities can be created. In August we took a little side-trip, and since I've been working with new people on my next project, we decided it'd be a good experience to participate in the GMTK Game Jam, and make a game in under 48 hours around a theme specified by the organizer. While the originality of the game ended up in the top 10%, our overall score only put us in the first 20% of the participants. Nonetheless, we were happy with these results. If you are interested, you can read a more detailed post on how we approached the jam here: Overheadgames.com
At the end of August, I took a look at RPG Scenery, an exciting way to visualize scenes during role-playing. You can read my experience, as well as try the software for yourself following the links here: Overheadgames.com
Since September, only a small amount of time was spent working on ePic Character Generator. I fixed a few issues that were reported earlier both in the client and on the website, while also participating in various sale events on Steam.
In November, the Fantasy Starter Bundle debuted in the Humble Store, which is a huge milestone for us! Getting into the Humble Store is not easy, since they are very selective on what they allow into their storefront. Thanks to all the users that were using the Steam version over the past years, and especially those who decided to write reviews on the store page, we were able to demonstrate that people are happy with the software, and eventually get listed.
I also got into my first sponsoring deal with The Games Tavern, as I offered a few keys for lucky viewers of their streams. I also got interviewed by Reid, and we talked about how I became a programmer, why we decided to create ePic Character Generator in the first place, and what's coming next.
In December, the official Overhead Games discord server has finally been launched. It's brand new, but there are lots of things to do already. First, you can hang out and chat with us, enjoying our company. While we can discuss any topic on your mind, or play games together, we'll also share updates and sneak-peeks there first.
You can also play various games, like russian roulette, blackjack, participate in cute animal-races or simply bet on a coin flip, just to name a few. With all these games, you can collect Gold, a digital currency on the server, that you can later exchange for various goodies. As of now, there are already several Steam keys for various games, as well as ePic Character Generator packages available. You can also offer your own digital items on the marketplace, and obtain more Gold in the process. Both the list of available goodies as well as the games will be extended later on. In the past two years, I wrote numerous games for discord on a friend's server, and we've had extreme fun playing these over the months. Since the architecture of the bots is a bit different, it'll take some time for me to port these, but they are coming!
But that's not all! You can also participate in a fully-fledged, text-driven idle RPG, where you can go on adventures, obtain loot and money, level up, upgrade items, form or join guilds, battle others for fame and glory, and many many more activities await you! So come, join us: Discord.gg
But this is not the end of the story yet. As I mentioned, since September most of my time was not spent with ePic Character Generator, as I've been working on a new game for quite some time now. The original idea came in April 2019, and ever since I've been on and off the project whenever I found the time. I started working on it more seriously this January, and since it'll be a game with lots of text in it, I hired a writer to create these parts, as I'm not a good writer myself. During Autumn, I also came to a point where the high-level vision was already refined enough so I could start looking at different art directions. I looked around on various platforms to find the perfect match for my vision, and in the end, I got over 50 applications as potential artists for the game. I took several iterations with them, and in the end, I got the perfect style that'll go really well with the setting and the mood of the world. I hope you enjoy the sneak-peek below: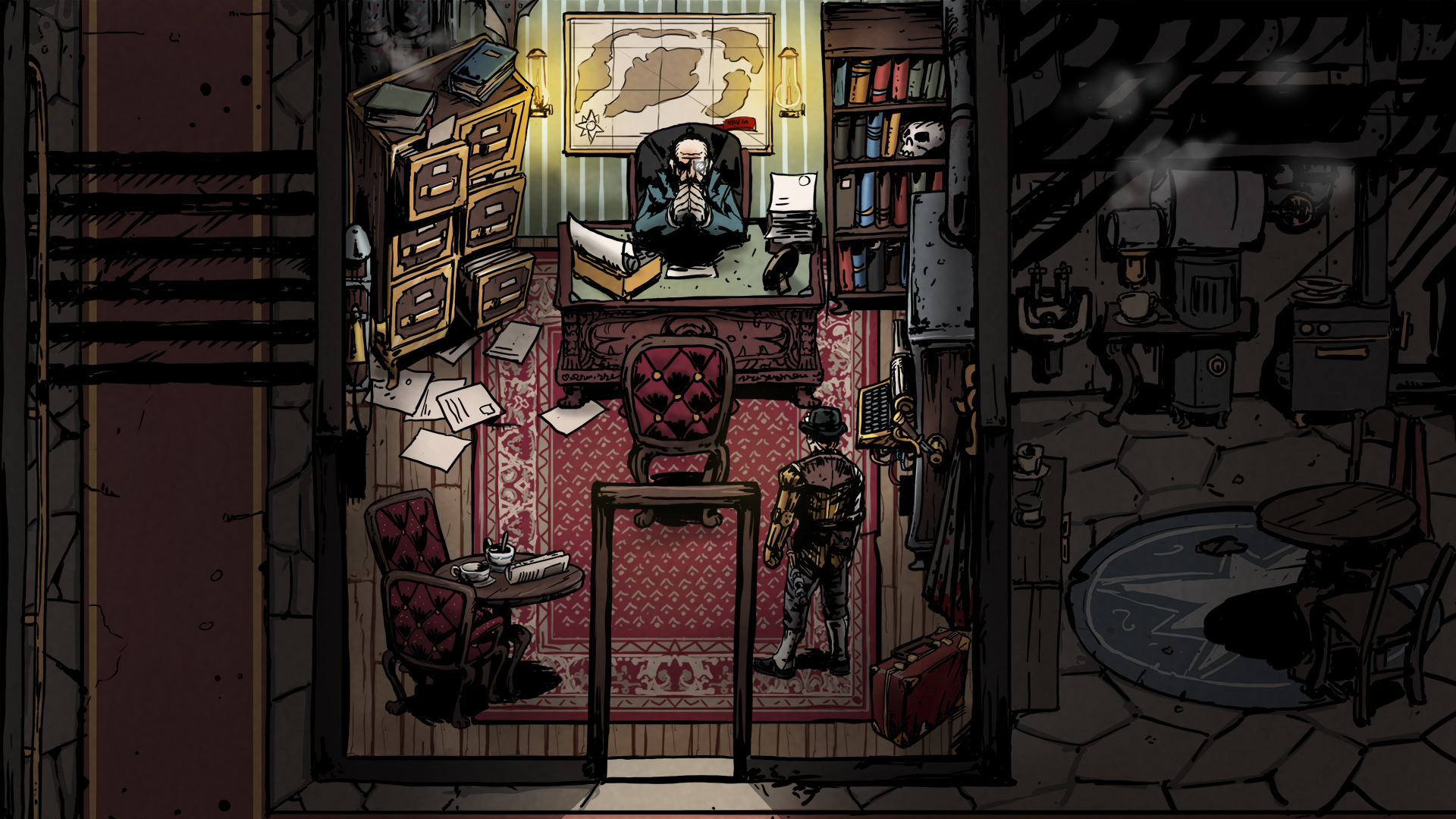 In the meantime, I also started looking for a second designer/writer. We were able to create most of the buzz of the new world ourselves, but I felt that there's still a missing component I wanted to put more focus on. At the time of writing, the game, from a technological point of view, is in a very advanced stage. All that is left to do now is fill it up with all the content we want to add, make the game interesting and exciting, and do lots of iterations to make it a very enjoyable experience. We plan to do a closed alpha and beta testing at some point early next year, so keep an eye on your e-mails, or join our discord server, if you like detective games, and would be interested to sign up!
As for the future, Elena, the artist of the Throne packs is working on a new package for ePic Character Generator. Once again, it'll be a completely unique take you never saw before, but there are quite a few technical quirks we need to overcome before we can release it for you.
I hope you liked this recap of the year, and are as excited for next year as I am. I hope to be able to share some more with all of you very soon. If you want to have a more detailed overview of what has been happening, check out our News section!
Have a nice Christmas, and let's hope together that 2021 will be a better New Year!