A lot of people have been asking us about our teaser: why is it in black and white? Why not do color?We think that's an important question and want to answer that now.
A Bit about 1-bit
One-bit graphics have a long and storied history in computers and computer gaming. For much of the early days in visual computing (where monitors provided instant feedback about user inputs), the monitor could only show two colors: on or off.
I can hear you thinking, "Wait, 'on' isn't a color." Remember that everything computers currently do is based on two potential states: 0 or 1--off or on. Different monitors showed different colors for on: some showed green (think of The Matrix) and others showed white.
This image does an excellent job of showing both 1-bit green text and showing the clarity of each individual pixel.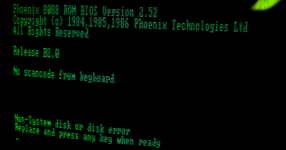 If you look closely you can see the little dots that make up each letter. These are pixels. Most monitors these days have millions of pixels that are super close together, so you rarely can tell them apart from one another.
What does this have to do with Rogue Invader?
Modern computers and monitors are able to show millions of colors per pixel. They can now show different colors and different intensities of each color. (We think this is really cool, because there are some incredibly beautiful games out there, check out the Star Wars Battlefront trailer for a prime example.)
However, we wanted to build on the trend in gaming toward a "retro" feel. Tons and tons of people are doing 8- and 16-bit color for their pixel art games. Some of them look really good and evoke the feel of the games we used to play on NES and SNES.
We wanted to pay homage to the games we first played: games on the Apple Macintosh: games like Brickle and Helicopter--games that had two colors: on and off.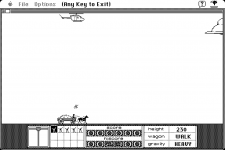 We wanted to take that move toward "retro" farther back, but we didn't want to regress in a few key areas.
Our twist
But there are some things we love about modern games: pixel density, smooth character controls, pixel perfect collisions. These things mattered to us. And we didn't want to create a game that felt and moved like a doddering old Pentium 386.
So we took the exquisiteness and nostalgia of 1-bit and have placed it in a set of modern controls. We have merged the best of the old with the best of the new, and we want you to enjoy the nostalgia of the games you used to play without any of the "d@*! it, I wanted to go that way!" frustration.
Your turn
What do you think? Does this bring back fond memories for you? Let us know in the comments.
Nathan and Lee J
As always, hit us up on Twitter: Twitter.com and use #RogueInvader
Give us a thumbs-up on Steam: Steamcommunity.com