Guys 'n Girls,
i have been ask by several persons if i will continue my quake tribute game and what's its current status.
It used to be a personal and unofficial project but apparently i mentioned it a bit too often :D
So here a quick overview what happened:
I'm glad that there is so much interest in the game so i will continue it as for myself. It's a tribute to two of my favorite games ever what means i have a personal interest in it. BUT i have nearly no time so it crawls towards a releasable version. I can't invest more time as i am buried with work and this is a non-commercial game ... sorry i got things to do :/
I wasn't able to work for about 6-7 weeks lately and wasn't even online within this time. So i need to gather some money back now and thus focus on orders and get my wonderful baby "Blue13" done.
Well that was the explanation - now the plans and what i actually did do within the few time i had...
I started the project long long ago so i will fist review the whole project and list what to do . after that is done i will post a new article covering the plans if somebody still cares :D
I have indeed begun to migrate the game from my old version (at it's time i was testing on a 500Mhz cell, ZTE Blade) to somewhat more current standards. The textures are half way updated (double resolution), i added a spec map and wrote a light weight shader that doesn't blow up the Droid. And updated the soldier - have a look!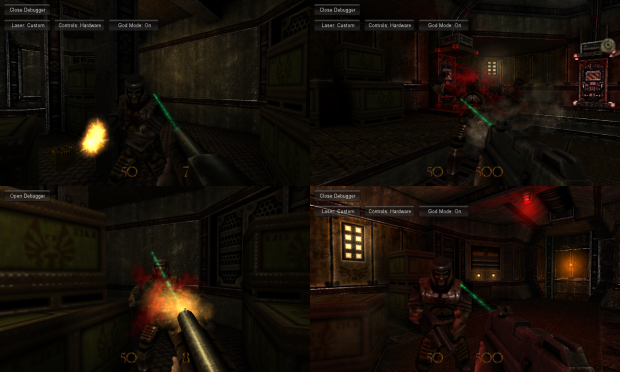 He's still ugly but now he is shiny too!
I also worked on a new enemy that is an own design and is kind of a something between the Feind and The Ogre - i call him the Butcher and hes a ugly rotting ... thing that loves to hack'n'slash.
Additional to that cuddly guy i started to work on the classical Zombie so somebody throw rotting flesh after you - on this one i was experimenting with a new/old technique: I draw the texture by hand in REAL LIFE (yeah, the place where the pizza cams from you called...) - its really interesting and the resulds look pretty cool but is a long process ... so the zombie still is in his base layer (muscle and skin structures) i will probably do a lot of digital adjustments but i wanted that experience.
Last thing i did was adding a Laser. That is optional as this game is controlled like the old classics Doom and Wolfenstein. You don't need it but people might want it cause they weren't planed when games worked that way. I added some debug functions to but that's all i thing.
Oh wait - i added a new corridor and a room with a bottomless pit to the level...
So the project is alive but has been somewhat comatose you could say - and i am afraid this might stay that way for at least 2 weeks .
After i reviewed the project i will probably clean it up replace 200% of the code and try to get it a way other people could take part if somebody wants to. I will drop a post on this one.
Sooo... until then have a nice day - you maybe might want to check out my stuff soon as i will be updating everything next week.
Thanks for the read and the interest!
- M.Phil Storm