Wow, nearly a year later? I didn't even notice till now that my last update was back in October. Makes you think the project is dead for those eleven of you following it. In fact quite the opposite, a lot of work has been done. Many changes and additions, such of which are going to be final and full on production of the game can be started.
Let's run down some of the changes.
ADDITIONS
- Crafting – now a huge part of the game. Unlike most games where you can find resources via veins, you will find items like copper, iron, and such from enemies, chests, and trading shop. You can craft a large variety of items.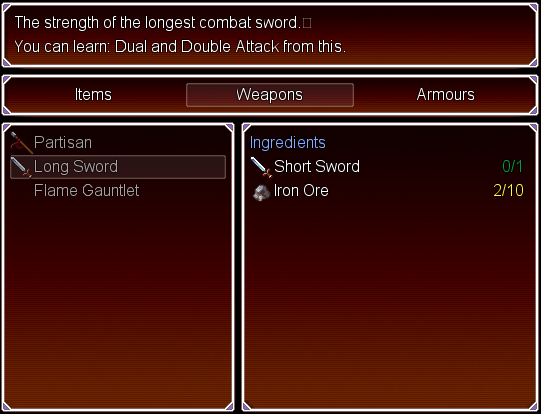 - Weapon Skills – Instead of simply getting skills from leveling, you get skills from using a weapon enough and then that skill can be used once the skill has been unlocked. To make sure there is some choice, there will be a variety of similar stats weapon with different skills so you aren't tied down to one path.
- Limited Skills – Instead of having all skills usable, you will only have a certain amount of skills from 3 categories (common, rare, legendary), that can be used in battle. This is to encourage trying out new builds to see what works best.
- Enemy Health Bars – Now every enemy has a health bar without the need for "analyzing them.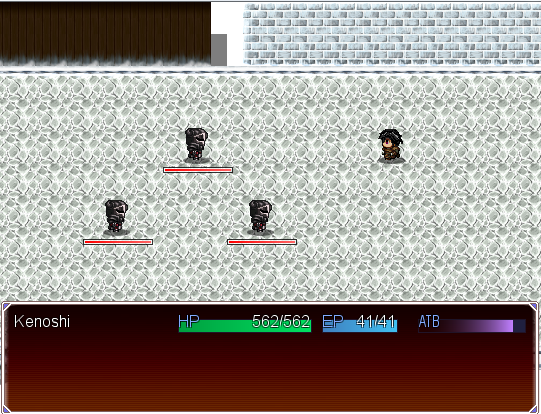 - Jumping – You can now jump, this allows making some levels more vertical in design and more fun exploring.
CHANGES
- The start of the game is now radically different. To give a brief description of what the original was: Before after completing the tutorial you would see the main character, Kenoshi and a side-character Marisa going to Upper District. Instead now instead of going straight there, we dial back to a year after the tutorial (rather than 3 years), and show Kenoshi as a Mercenary to introduce other characters and develop more before being thrown into the main part of the story.
This means the game is now in 3 Books (Acts), Book 1 is Kenoshi as a Mercenary, Book 2 is him aiding Upper District in ending the war (like the original start), and Book 3 being the climax.
-Save points – Before you could save anywhere but now you can only save at some parts. At these points you can craft and use the heal shop to heal your party for a fee.
-Random Encounters – Before enemies were on the field, but due to this not working out that great, now you just run into them with random encounters on the map.
-Spiriting now tied to a stamina bar so you can't run forever to speed past areas. Combine with Jumping to make large gaps.
-Removal of comic-style cut scenes. I found these were way more annoying to make and decided to go for a simpler method that involves the in game engine. So how it works now is that while a cut scene is going, images will pop up to show various actions or what someone is referring to.
Currently this is not fully implemented but I plan to make all of the cut scenes without them first and then add them over during the final stages of development.
-ATB - With the change to the Tankentai side-view combat system, I also decided to add in an ATB system to make the combat faster and more frantic. :D
-Menu - Before I had a radial menu, but now it's just a full menu screen that looks a lot nicer and has a lot of useful info!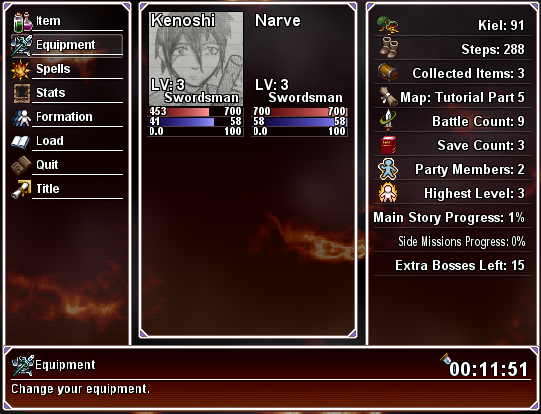 Anything else?
I hope to put up more screenshots of what I've been working on lately and hopefully I will get people to look forward.
Another thing, while I don't know if anyone be interested in it, but I may plan on writing a story: The City: Mercenary, which goes into the backstory of one of the characters, Kayle, that works with Kenoshi throughout the game. It will be sort of a sneak peek into the universe before actually playing the game.
So if anyone reads this, comment and tell me what you think about that idea.