Hello there people, now that we are officialy authorized in IndieDB, it's time for us to announce what we have done this far, and what we are planning developing.
About Programming:
In the programming part, many things are done. Most of the character programming is done, and I'm pretty much just waiting for the models to come so i can create some horror feelings in different situations. Also i just finished implementing some basic AI. It's not though what I'm aiming for yet.Also a cool thing that we will have to offer in game is a clock system, since, if you have read the Creepy Pasta of The Midnight Game ( link ), you will understand that both In Real Life and In Game you will need it.
About 3D Art:
This is the part that we still lack. Thank God, many 3D Artists applied to us and we seem to have reached our decision of who is most suitable for the work though. All the 3D Models we have so far are either downloaded or some guys contributed to us, that's why they are there temporarily. Hopefully the interior of the house will be done in some weeks, and when that happens we will be able to move onto making the v1.0 release. If you are a decent 3D Modeler, please contuct us . :)
Gameplay: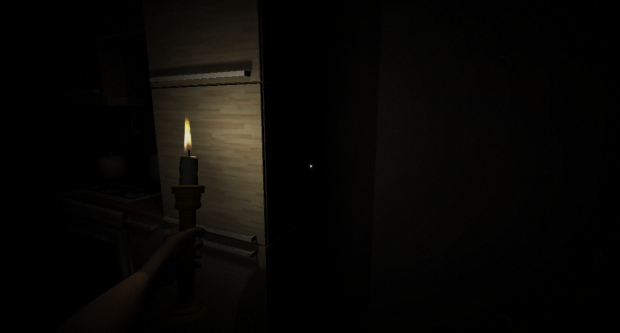 When you start the game, the first thing you need to do is to complete the ritual ( link). So after you collect the items and perform the ritual, The Midnight Game starts. Then you will have to wonder around the house untill 3:33. If the Midnight Man finds you then you need to light the candle again but if you fail you will have to form a circle of salt so you can be safe from the demon. If both fails, then prepare to meet your worst nightmares!
The Clock system will be different that in Real Life, that means time is going faster ingame, you can't possibly wander around the house for 3 real hours.
This is the basic concept of the whole game. We try to make the difficulty, gameplay, feeling, mood, as realistic as possible based on some creepy pasta/no sleep documents we found on the internet. The good thing is that most of them had the same descriptions so it was easy for us to form a Midnight Man and how the whole Game works.
Also, since we don't plan on releasing v1.0 as soon as possible since we want it to come with a bang! , we are going to release a smaller version, version 0.5, where you just free roam around the dark house, just you see how the enviroment will look like.
This way, we would like you to give us some feedback , of how we could make the scenery more frightnening or if you discovered any bugs :).
If you like our project:
Then please help us! If you specialise on some area and you would like to contribute then please let us know by contucting us either through PM on IndieDB or through our E-mail: unicornstd.info@gmail.com If you are just a gamer, then by tracking our game you would help us a lot too :).
Thank you for your time, and stay tuned for more! ;).