Aparrently ModDB decided to cut half of my last news post off so my topic name made no sense. So I'll quickly recap what was cut.
I brought up the Podcast that the RA:APB and RA2:AR teams did not long ago. We talked about a huge range of topics during the 1+ hour Q&A and Blog we did on the air with n00bstories radio. Check that out for insight on many topics regarding RA:APB Beta, including the release plans.
We also changed our team name and made ourselves a logo.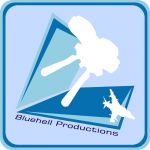 Yes, Bluehell Productions. (which explains the topic name) For current players the source of the name is pretty well known, but if you don't know it, listen to the Podcast where the artist The Aces of Razgriz discusses the making of the logo.
I also mentioned that we have official X-Fire support now.
I think that is all that is missing.