Mordhau is a multiplayer first person slasher. Design your own weapons and armor, then battle it out with other players in various modes. It features a deep and fluid combat system that allows those that master it to turn into an unstoppable force on the battlefield. The game is still under heavy development by a small team of independent developers and our goal is to release it as a commercial title on Steam. There is no set release date as of right now.
---
Combat
The player attacks with the left mouse button, flicking the mouse into the direction (roughly 120 degrees on the left side and another 120 on the right side, for a total of 240 degrees of control) they want the attack to come out just before clicking. That's a strike. The attack is now moving along, and can be manipulated in real-time by looking around with the mouse. The other attack type is a stab and it generally works the same way, flicking to either side to determine from where it should originate.
The phases an attack goes through are windup when the attack is preparing, and release when the attack is executing (and can hurt players and or be blocked). To block a weapon attack, the defender presses the right mouse button, and aims towards the point of the attacker's weapon that will connect earliest (e.g. the tip at a distance, or more towards the middle up close). Since a block only lasts so long, it requires good timing.
The attacker can manipulate their attack to slow it down (called dragging an attack) or feint the attack to bait a parry. But there's another way to block an attack, called chambering. If the defender mirrors the attacker's attack type and angle, they can block with an attack of their own, but this requires even better timing than a block.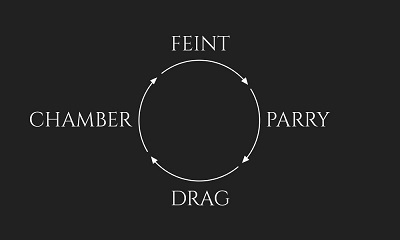 This causes a pattern to emerge that works a bit like this: if the attack is threatening right out of windup, the defender may try to parry but they are very susceptible to a feint. Instead of parrying, opting to chamber such an attack will mean that if the attacker feints, the defender's attack will strike them, and if they don't, the defender's attack will block the attacker's -- win win! If on the other hand the attack is coming from further away, the defender can wait for it to enter release and reliably parry it, but if they are over-eager and try to chamber it, the attacker might re-adjust the arc causing the defender to miss the window, taking a hit instead. Actual situations that arise in the game might be somewhere in-between and it's never so clear in the heat of battle as to what the correct action is, but practice makes perfect!
There are many, many more aspects to combat, but these are the basics. As a notable example of some of the things not mentioned here: your weapons might collide mid-attack, which would lead to something called a clash from where follow-up attacks can be initiated by both parties, leading to an epic exchange of blows as the follow-ups also might collide in turn!
Customization
In Mordhau, you make your own class. A game that lets you show off your combat skills isn't complete without letting you design your own armor and weapons as well, and this is where customization comes in.
You can create weapons out of parts and color each part, yielding a lot of possible variations. Swap out that crossguard with the one you really like, and why not give that leather-wrapped handle a nice red trim?
You pick your gear, and then it's time to design your armor.
There's plenty of slots to customize, from shoulder pads to armguards, gloves, boots, chausses, upper and lower chest pieces, helmets, etc. Hitting an unarmored spot will deal more damage, but armor also encumbers you and you move slower. Some parts influence gameplay in this manner whereas others are just for look.
Game Modes
And finally, all of this comes together on the battlefield in the form of a game mode. Since the game is still heavily under development, not everything has been decided yet. We have the standard modes such as Deathmatch, Team Deathmatch, Round-based last team standing, etc., but each game requires that one defining mode it is designed for. We'll come back and fill this in, or maybe you'd like to give us some suggestions!
---
If you'd like to know more about Mordhau, why not visit us at our official website and forums: Mordhau.net