At the moment, we are not spending the time we wish we could on the project. But, things are getting done, be sure about that. Ok, and what did you do at the past weeks, you ask. Let us present you a list:
The skills system is ready. We didn't test how it will affect the game yet.
About a possible test server: we are planning to complete the content to the 20th level and then open a public test. This is what we are focusing on right now. We already made some progress beyond that level (the content will reach the 100th level), but at the moment, it doesn't matter.
Look at the map shown at figure (1). This is the initial island called Kebelessa. On the test server, only this rookie island will be available, probably.
The creatures you will face on Kebelessa are shown at image

(2)

.
Many minor changes were made that we will not cite here. This post is only for those who urges for news from us. I hope you like it :)
Be patient, at some time on the future we will all meet again on the unique pixels of Kakele!
---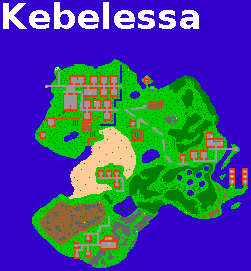 (1) The map of Kebelessa

(2) The creatures of Kebelessa