Let's talk about Over time gameplay™ we introduced in Reverse: Time Collapse.
An explanatory video of what we're about to talk about is in the making, so everything will be clear soon.
This innovative concept let the gamer use three characters in almost every level, Jack, Patrick and Caine. These three characters won't be in the same moment in time, because they will travel through time in a non-linear fashion. Same place in different time. A lot of puzzles need to be solved with multiple characters with a time variable. Puzzles solved in the past influence the puzzles in the future directly.
To use multiple characters, we introduced a split screen visualization. The colored part represents what's happening in the present, while the sepia one represents what happened in the past.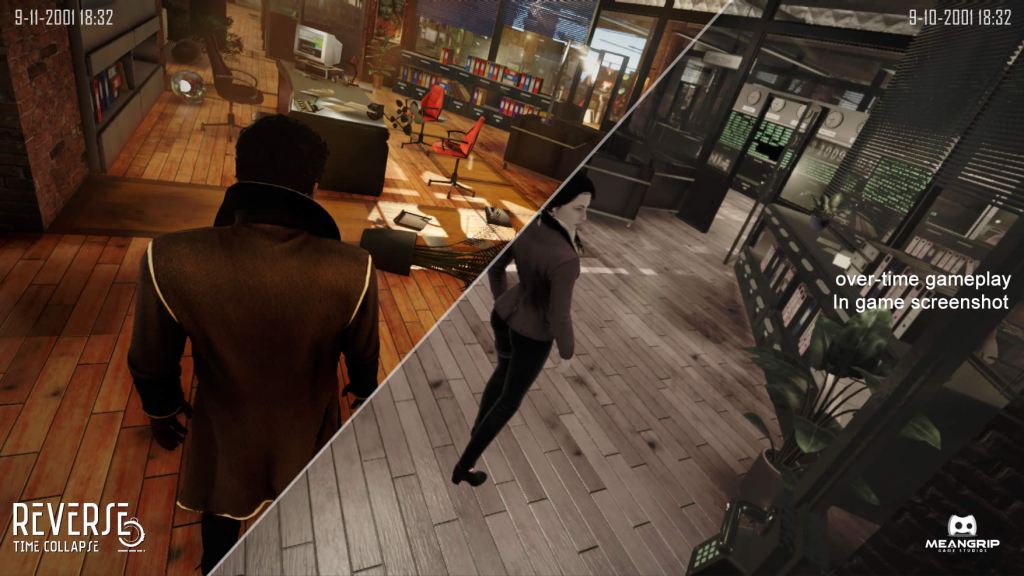 Now, let's do an example!
In the video we're working on, Jane and Patrick will place traps in an office to beat the agents who pursue Jack and will help him escape unlocking objects and weapons. The time gun, for example, will be hidden by Jane in the past so that Jack can find it in the present. If Jane places it in an unsafe place, the object will be found by other people and Jack won't find it.
Reverse: Time Collapse is not a fighting game, so in most cases you will need stealth skills and hidden attacks to beat the enemies. Those phases will be spaced out with cinematic gameplay, like Uncharted 4. Riddles will not be easy but along the lines of old graphic adventures like Monkey Island and Maniac Mansion, where levels were beaten and enigmas solved combining objects, talking to people and negotiate.
Other aspects of the game we already talked about are:
The game is currently under development and we'll launch a Kickstarter campaign soon. We need YOU to complete the game, subscribe to our newsletter to know when to back the project! If you still have to watch the trailer, visit our website.