Who are we?
Frozen Steel Studios is a small team of 4 created in 2018, for an university project at Universidade Lúsofona. We're all very passionate about making games, and have distributed the work among ourselves to better fit each member's abilities (some focus on programming, others on game design, art, etc.).

---
What is Champions of Tomorrow?

Champions of Tomorrow is a 1st person arena shooter with multiple characters, each one possessing their own unique abilities, and players get to adapt their characters according to their own playstyles.We plan to launch the game on Windows PC only.

The game has a set of basic mechanics and a roster of 4 very diferent characters, displayed in the image below (this images arereferences we're using as placeholders meant to show what our characters are going to look like, while we're still working on them). Each character has a main weapon, a passive ability, 4 blessings (abilities) and an ultimate special ability.

Before a game starts, the player can choose 2 blessings per character (one offensive and one defensive, and only one of each type can be equipped on a character at a time), from a total of 4, each one completely changing the way characters are played. This is what separates our game from our "competitors", because even though we still have a class-based structure (characters can be separated into damage-dealers, tanks, healers, etc.), we chose to offer ability costumization whithin the same champion. This was something we hadn't really seen in any games before, and we decided to explore it.
Below is how our ability selection menu for both character looks like as of now.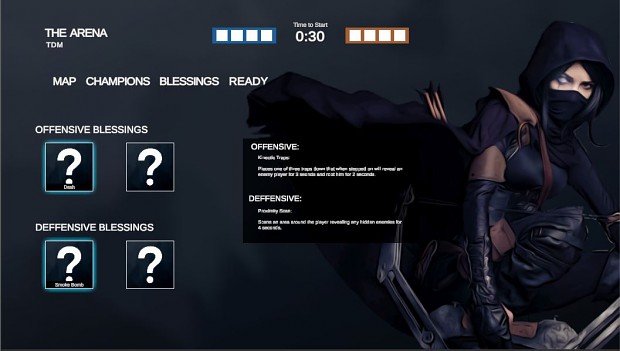 Only a few blessings are unlocked when turning on the game for the first time. That's where the experience system comes into play, allowing players to level up and unlock extra ones.
This means that 1 offensive blessing and 1 defensive blessing are ready to be used until the player decides to unlock more for each character.
Each new player starts at base level 0, earning experience with each win, loss and eliminations.The player has total freedom on whom to unlock a blessing, allowing him to get abilities for his favorite character and not having to be restrained by others that he might not enjoy as much.
---
We plan to have 4 characters total in this game. So far, we have two characters implemented and functional. The class system that is implemented works as the foundation for future
characters.
Saya's playstyle revolves around mobility and flanking, which means that she is a fast and agile character, having both evasive maneuvers and hard striking abilities.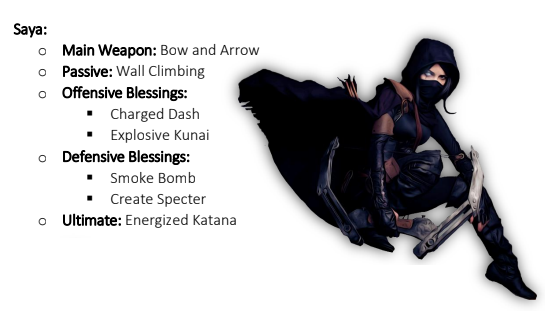 S.U.R.G.E.'s playstyle is directed mostly towards killing targets at long ranges, having abilities that help him reposition. He also possesses close proximity weapons in case he ever finds himself too close to an enemy.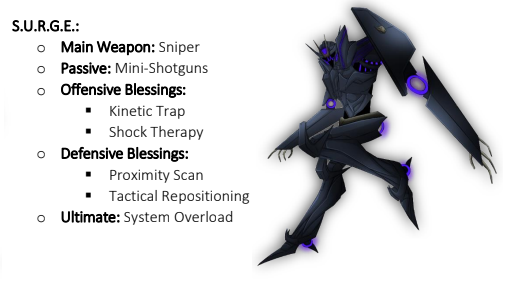 We'll share more about these characters in a future article!
---
So far, we have the game's mechanics implemented, and are modeling assets to populate the game's arena.
We'll post articles weekly, follow us for future updates!
Thank you for reading!
Sources for the images: