It has been a big hiatus here. Time to get you up to speed on what's going on.
Northbridge R2:
With a major update coming soon, I thought to do some renovation both in game and in Northbridge. Northbridge's UI is a major update. Here's a small peek:
Of course, UI is half of the story. The new design also makes the tool-set more powerful and easier to use. Diagnostics also gets a save check, which checks if the game has access the save folder. Save Manager's Backup and Restore system is more reliable and more precise. Plus, all settings are auto-saved. I'll be adding more useful tools as the development goes on.
New on the next release, selective export and multi-file import allows to export and import some files, instead of exporting all the save files and importing one file respectively. Skipping the launcher automatically is useful if you just want to play the game by double-clicking the shortcut. Of course, since the launcher doubles as the control panel for the game (for some things), I've also added a small routine to reset that setting. The snapshot mode is an experimental mode which allows more frequent backups (if you save a lot). How it works is simple: the Northbridge Engine monitors the save folder, so when you save, it automatically creates a backup. It does need some tweaking, but it might be useful.
In addition, I will open source the entire launcher and make it available to developers. With the launcher, I wanted to address some things that pissed me off when I was playing games, which they offered nothing to manage the save files good enough (such as backing up the save files). I have open-sourced the Save Manager (can be downloaded on itch.io (Aceofaces.itch.io) and Gumroad (Gumroad.com), free or pay what you want), since I think that it would be really useful for both developers and players alike. Open sourcing the launcher will provide the developers the foundation to build that with useful user-friendly features. Hopefully it will be appreciated.I am also working on adding the option to sync your save files between computers using your cloud storage. Currently, it supports OneDrive, but I'll add more services later on (Dropbox is next up).I haven't done much on this, since I had trouble setting up the authentication system, but I've almost figured it out. Here's a preview: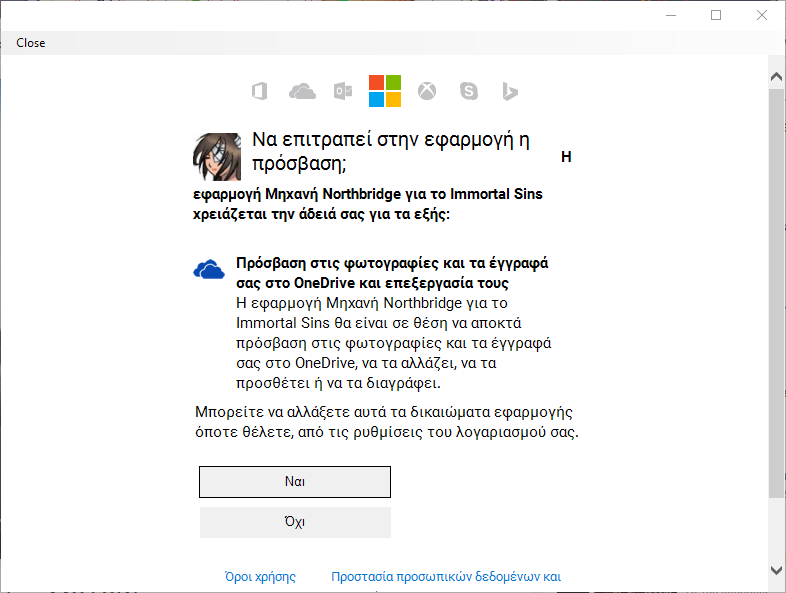 NOTE:This is opt in.
Synchronisation works a lot different than the backup system. Sync keeps both folders in sync (both files have the same info) while the backup system keeps multiple copies of the save files, in case something happens. I don't know when it will be available. It may be after the next major update.(A minor side-note, I am also doing some improvements on the backup system, to avoid unnecessary writes).
Engine Overhauls:
Most of the changes on the engine focus on speeding up the game so it can run well as much as possible, from removing unnecessary code to tweaking some components. A new addition (possibly a welcome one) is support for the Xbox 360 controller (complete with it's triggers). Currently it's partially compatible, but hopefully it will support it fully. I have done some graphical updates on some areas, particularly in areas like this: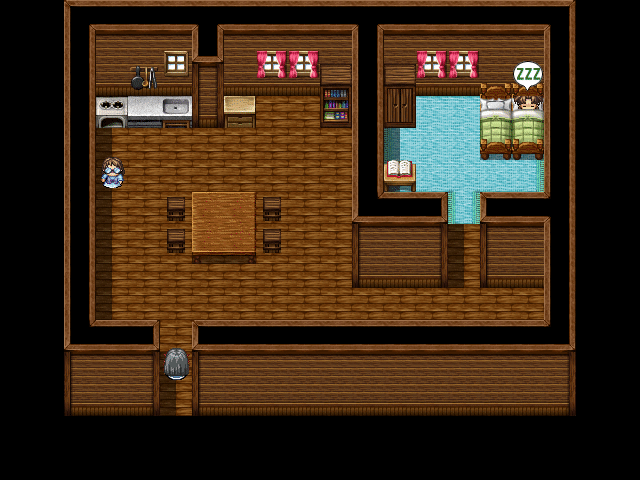 I have another overhaul done, but I'm keeping it secret for now…
On an older post, I mentioned that I was re-working the engine's design so it works with Windows NT's architecture (every user on the same computer have their own save files). The latest versions take advantage of this on the saves and some of the settings, which also allowed some form of cross compatibility between mirrors. I have done some under the hood changes to allow more settings to be stored outside of the game's files. One of them, is the Full screen settings. Why? Because in the current versions it saves them in the game's .ini file. In the upcoming version, this will allow better customisation for every user in the same computer. Plus your settings are the same whenever you downloaded the game from both versions available here. A second upgrade was to transfer both the save files and the settings on one folder for easier management. Next versions will use the Saved Games folder (which was introduced on Windows Vista). Now, if you want to continue where you left off from the demo, I will release a tool, which will move the save files to the new location, at the same time when the game update with save transfer tool is available. Unfortunately, the settings cannot be transferred due to technical issues.
Into the final stretch:
I only have to do a few more things to do before I release the Disc 1 update. It certainly took longer that I expected. Over the last months, the engine and the game have improved, gaining new features, sorted out problems and it got nicer graphics. It was certainly an interesting piece of software engineering for me and (for most of you, me included) it was an interesting game at least. I had setbacks, but as long as I see that you enjoy it, I keep pushing. Thank you all for your patience and feedback. I hope that the next major update keeps this or improves it for the better (and you enjoy it of course). When it will be released? If everything goes well, then the spring release I said on an older post is confirmed.
Unfortunately two of the features I planned may not make it in the next update (mouse support due to technical issues and the eManual due to licensing issues with the authoring tool.) I'll try to bring them, but I make no promises.I still have to deal for the second part. But it might take less time to bring it in (I hope that it does).
That is all for now. See you on the next post.